An informative cover letter is a necessity when you want to catch the eye of an employer. You need to highlight your experiences and accomplishments to show you are right for the job. Find out the best way to write your cover letter by reviewing the assistant director cover letter example and do and don't tips.
Do make what you are capable of doing quite clear. You need to talk about what you've done in past productions, but also let employers know what you expect to be able to do in the future.
Don't start out your letter with your name. Not only will you say your name at the end of the cover letter, it is also included on your resume.
Do pick your format based on the company. As an assistant director, it might be best to stick with a traditional format, but if you were trying to get a job at a startup, you may be able to be a little more creative.
Don't focus too much on your education. You can briefly highlight your educational foundation, like in the example, but avoid talking too much about your degree, the courses you took, or your GPA.
Assistant Director Advice
Designed especially for assistant director jobs, these cover letter examples have been set up to help you impress hiring managers and land the job you want, faster. Choose any of the templates below to get started on building your cover letter. Review the samples, pick the style that works for you, and improve your chances of getting the great assistant director job that you want!
Cover Letter Tips for Assistant Director
Finding jobs as a Assistant Director takes a mixture of using job-seeking tips and having a positive attitude. The following advice can help you score your next position in the current job market.
1. Positivity is important. Keeping in touch with optimistic and trusted people to discuss your feelings and concerns during your job search is a good idea. Remember to eat healthy, exercise and sleep well.
2. Networking is critical. Contact all your connections, including your friends, family, neighbors, and former colleagues and classmates, and let them know you are seeking a new job.
3. Build up your online presence by creating profiles and accounts on social media websites such as LinkedIn, Twitter and Facebook. Grow your social networks and inform them that you need assistance in finding a new position and let them know what your skills and experience are.
4. Persistence is important. Research all available digital and traditional resources. Look for jobs at in-person job fairs and online job search websites. Get assistance from your local public library or job search support group.
5. If you need help clarifying your career goals, take some assessment tests to help identify your career interests, values, and skills. Do some further research on possible careers and conduct informational interviews with people who are working in your desired field.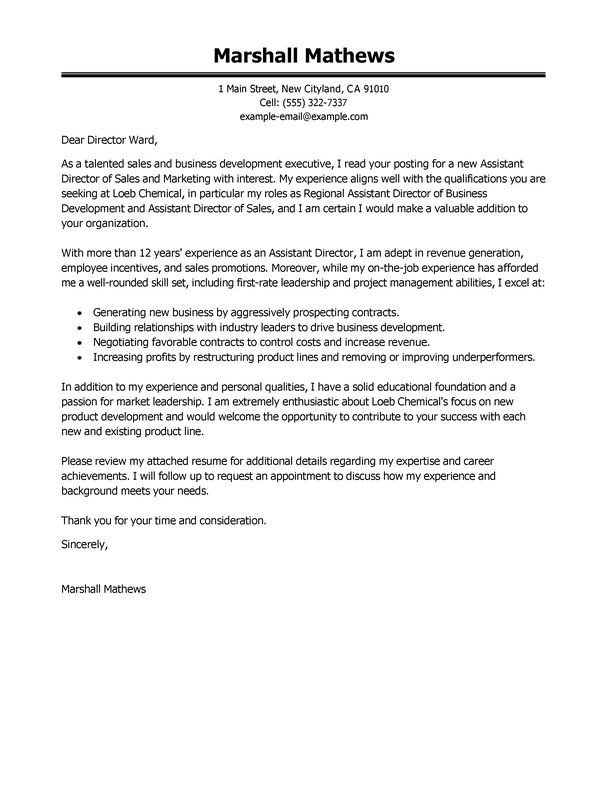 Assistant Director Job Seeking Tips
When it comes to tracking jobs as a Assistant Director, your cover letter is your personal brand. Use the following advice to make it attention-grabbing.
1. If you are a college student or a recent graduate, list your education first. Once you have gained a year of work experience, preferably within a year of graduation, you should list experience above education.
2. Make sure to include your contact information on your cover letter. The essential information includes your city and state location, a single phone number, and a single email address. Omitting your street address is acceptable as people have identity theft or privacy concerns these days.
3. Keywords need to be included in your cover letter to help employers find it in databases. Your cover letter should have the keywords that companies are looking for when they are trying to fill a position. Some search terms to use include job titles, responsibilities, company names, and school names.
4. If you have a lengthy work history, you may consider going back 15-20 years. You can list jobs that you had more than 15 years ago with minimal information, showing only the job title, your employer's name, and the job location.
5. Transferable skills are significant, in that they can be acquired at any point in your career and they can be used in any future job. Apply these skills and portray them as being relevant to the position you are seeking.