Crafting a compelling cover letter is one of the best ways to position yourself as a strong job candidate. If you need some help making a great impression to potential employers, review our manager cover letter example attached below and corresponding do's and dont's.
Do begin with a template. While you may need to make adjustments later, a template is a great place to start.
Don't use a general cover letter. An employer doesn't want to read, "Dear Hiring Manager, I am writing to apply for your company's open position, where I can utilize my skills and advance my career." A cover letter is best when customized and personalized to each management position.
Do keep it short. While there are some exceptions to the rule, you should try to keep it one page or less.
Don't start the opening sentence with your name. The hiring manager will be able to see your name on your resume–just get to the point with the management skills you can bring to the table.
Manager Advice
Looking for a manager job? We've created these manager-specific cover letter examples especially for you. Use these cover letter examples and their pre-written text samples as a starting point, then build a cover letter of your own to fit your individual needs. Land the job sooner with a stand-out cover letter. Click on any of these cover letter examples to get started today!
Cover Letter Tips for Manager
Even in a promising job market, the competition for jobs remains fierce. Landing a job as a Manager will take utilizing several job-hunting tools and techniques, including networking and using social media. Apply these tips to help your job search be productive.
1. Who you know counts as much as what you know. Your professional network can help you with job leads or help get your job application to the top of the cover letter pile.
2. Build rapport by following up with contacts. Sending an email after a networking event helps to build trust, which can translate into a job lead.
3. Curate your online profiles. Like it or not, recruiters and hiring managers almost always check out a job seeker's online footprint. Make sure your social media account gives the impression you want to make.
4. Build your reputation through an online portfolio or by posting recommendations from previous supervisors. A portfolio and recommendations show potential employers what you have accomplished and your value.
5. Stay positive! In a job hunt, it's understandable to get discouraged. Landing a new job can take several weeks or months. However, improving your skills, networking and cover letter is just as valuable as landing a job.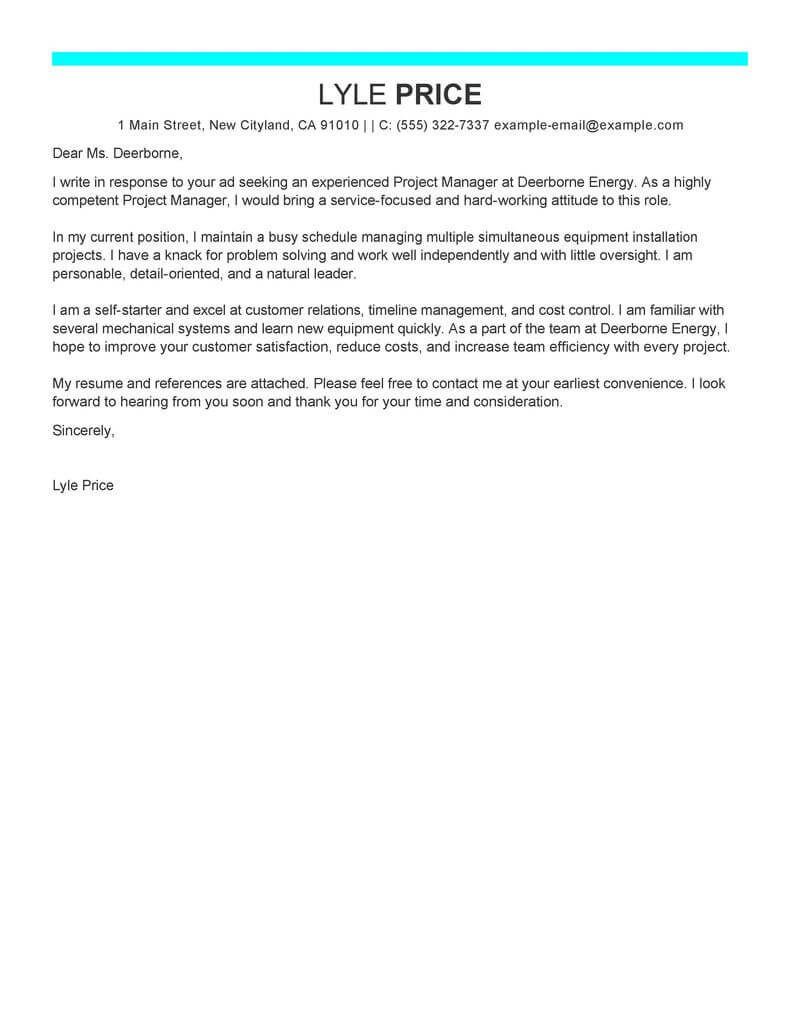 Manager Job Seeking Tips
When on the job hunt, every job seeker must have a cover letter to send with an application or hand to a potential employer. Your cover letter should effectively highlight your skill set and career experience within a six-second glance, which is the time that recruiters and hiring managers spend on a cover letter. Improve your chance to land a job as a Manager with these cover letter tips.
1. Make sure your cover letter highlights important information for your intended audience. For example, if your desired field requires specific certifications, make sure your credentials are clearly stated in your cover letter.
2. Keep your cover letter updated so you can apply to jobs at a moment's notice.
3. Post an updated cover letter on your online profile. Recruiters always look online for potential candidates.
4. Sharpen the focus of your cover letter with either a "Summary of Qualifications" or "profile" section. Put keywords in the job posting in these sections.
5. Emphasize skills that are applicable to any career. Communication, project management and costumer service skills are examples of transferable skills desired by any employer.