A potential employer's initial contact with applicants is the cover letter. It should pique the interest of the hiring manager so he or she pays special attention to your resume. Many people find this task daunting, but with the right resources, winning cover letters are within anyone's reach. Taking the time to review samples, like our police officer cover letter example, and to familiarize yourself with these do's and don'ts will help.
Do explain why you feel you are the right person for the job.
Don't be apologetic for skills you don't yet have. Instead of saying, "Though my recent experience has been more administrative . . .," say "My recent administrative experience coupled with . . ." Use positive phrasing.
Do write in the language of the organization. Using common police terms will show that you are familiar with the workings of law enforcement.
Don't oversell your enthusiasm. Instead of saying "I'm so excited to apply for this position," say "I am pleased to apply for the position of . . ."
Police Officer Advice
Got what it takes to become a police officer? If you're ready to join the force, you'll need a cover letter to explain why you're right for job, and our cover letter examples can show you how it's done. Developed specifically for police officers, these cover letter examples include the type of language that you'll need to advance your cause. Model your police officer cover letter after these examples, and take the next step toward getting in uniform faster!
Cover Letter Tips for Police Officer
Finding jobs as a Police Officer takes a blend of pounding the pavement and pounding the keyboard. In other words, you need to be tech-savvy and not afraid of good old-fashioned hard work. Here are a few tips about job-hunting in the modern landscape:
1. Assess your job skills. No matter what career level you're at, evaluating your skills can help you look at a variety of jobs that are looking for your skill set. Various websites offer assessments on interests, skills and work values that can help you determine the best career for you.
2. Get networking. Your contacts can help you with your job search. Start with your friends, family and neighbors. Reach out to former classmates, professors or teachers. Connect with acquaintances, former managers or co-workers. One of your contacts may be able to help you with job search questions or give you a job lead.
3. Join professional organizations. Professional organizations with local chapters can help you in your job search. Some of the local chapters post openings for jobs in the area. Chapter members are more likely to know of upcoming job openings.
4. Browse online job banks. When it comes to job hunting, you need to cover all your bases. That includes browsing and subscribing to online job alerts. Also, you can post your cover letter to the online job bank. However, be careful to not post personal information like your social security number.
5. Attend job-hunting workshops. Public libraries often host job-hunting workshops, which include topics on cover letter help and interviewing skills.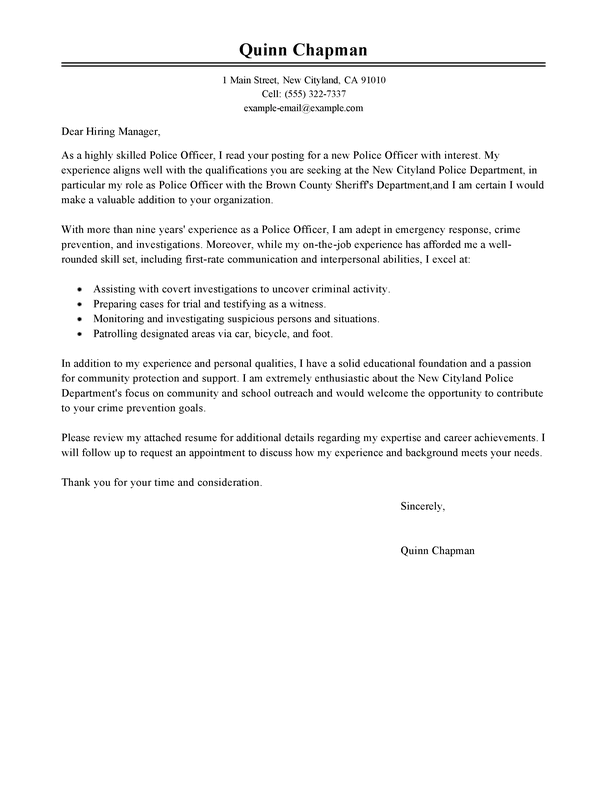 Police Officer Job Seeking Tips
A successful job search begins with a winning cover letter. No matter the number of years of job experience or your career level, your cover letter plays an important role in finding jobs as a Police Officer. Follow these do's and don'ts tips for a standout cover letter.
1. Format your cover letter with a bulleted style list. This type of formatting makes your cover letter easier to read.
2. Use a cover letter design that's readable and distinctive. While it's convenient to use
Create My Cover Letter
from Microsoft Word, it will look similar to others applicants who are also using Microsoft Word templates.
3. Make sure to put your contact information, such as your e-mail address, city, state and phone number. However, be careful to not list any information that can be used for identity theft.
4. Create a "Summary of Qualifications" section in your cover letter. This helps to make an immediate impact at a glance.
5. List your accomplishments in addition to describing your job duties and responsibilities.