Finance managers bear a lot of responsibility for the financial health of an organization. Your finance manager resume should therefore display your ability to produce financial reports and develop strategies and goals. Refer to our finance manager resume example for some insight into how to do this well. Note the level of detail required regarding your previous employment, including the planning and execution of financial processes and the analysis of market trends. A bachelor's degree is a prerequisite for most finance manager posts. Your resume should also specify whether you hold any additional certifications.
Manager Advice
Looking for a job as a financial manager? You'll need the right education, the proper training, and the best resume you can get. A good way to see what your financial manager might look like is to review our resume examples below. Developed specifically for financial professionals, these resume examples will show you what information you should include, and how to format your resume. Click on any of the templates below to get started.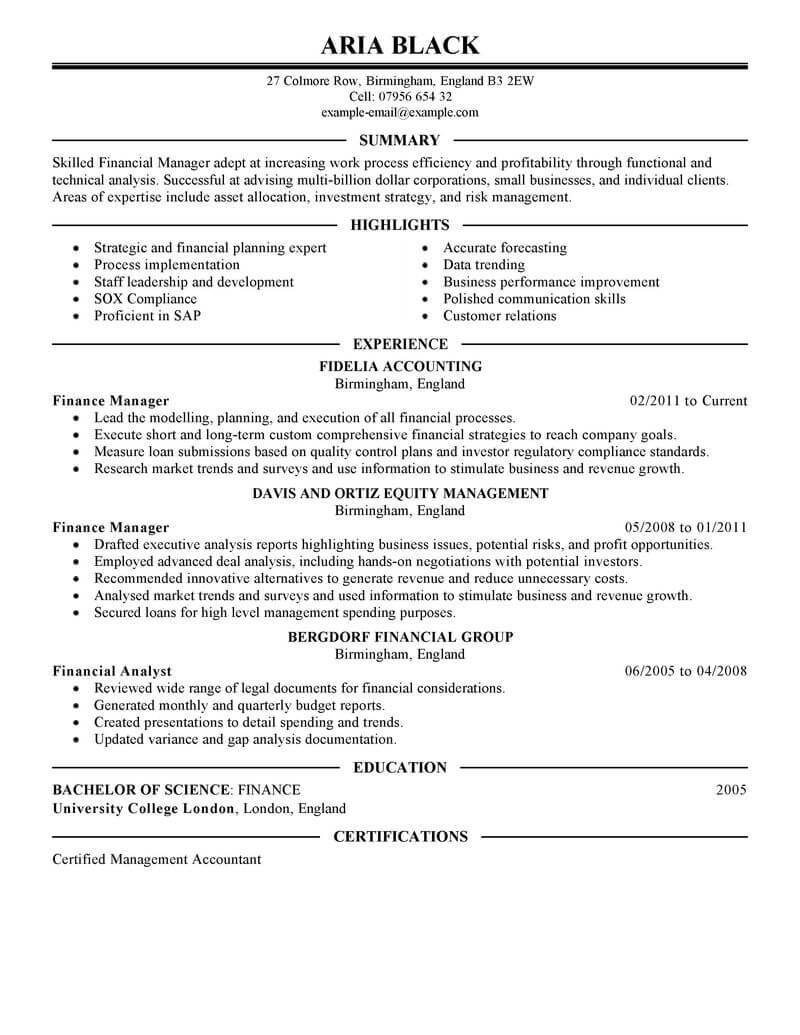 Resume Tips for Manager
Undergoing a job search can be a stressful event for people of all educational backgrounds and levels of experience. However, there are certain things that all individuals can do in order to ensure that their job search is productive. When beginning your search, remember these simple tips:
1. Look for positions in small businesses or other places you might not initially think of. Some open positions are overlooked simply because no one thinks to check in lesser-known places.
2. Do your research concerning the skills which will be required for the position to which you are applying.
3. Attend job fairs or other gatherings which offer help with finding employment opportunities. Sometimes this simple initiative can go a long way.
4. Maintain a positive attitude. Not only will this serve to keep your stress at bay, but can also provide proof of your ability to deal with stressful situations to potential employers.
5. Have a complete and well-written resume on hand for any applications which might require the submission of one.
Manager Job Seeking Tips
Regardless of what job you're applying to, the amount of experience you may have or the education you might've received, having a clean and professional resume is one of the most important aspects of obtaining a career in almost any industry. Here are some things to keep in mind when preparing your resume when looking for jobs as a manager:
1. Be sure not to add unnecessary information to your resume. It takes up valuable space and offers no useful information to potential employers.
2. Resumes should ideally be kept to a single page, but for those with extensive experience tow pages are acceptable. However, this should be the absolute maximum.
3. List previous employment and experience in reverse chronological order. This will ensure that the person reviewing the resume can easily identify the most relevant information first.
4. Ensure that you include contact information that an employer can use to contact you easily.
5. Make sure that all contact information included is professional-sounding and appropriate (i. e. , no sexygurl12@email. com addresses or inappropriate voicemail messages).