Loan officers are sought-after employees by banks, credit unions, and mortgage companies. They have a high level of responsibility, often evaluating, authorizing or approving loan applications. Your loan officer resume is an opportunity to demonstrate that you have good interpersonal skills and can provide excellent customer service. Most loan officer positions will require a bachelor's degree, which should be included in the education section of your finance loan officer resume. You should also indicate whether you hold a mortgage loan license. Our loan officer resume example provides a guide for setting out the jobs you've held and the duties you have performed as a loan officer.
Loan Officer Advice
A loan officer evaluates and makes decisions about loan applications from people and businesses. The loan officer resume examples below are the perfect way to find out what should be included in your resume. Use these resume examples as a guide to develop a well-written, properly formatted resume faster. Click on any of the templates below to take the first step toward a better resume and a better job.
Resume Tips for Loan Officer
If you're spending time looking for jobs as a loan officer, and you haven't gotten results yet, keep at it and try including these job searching skills in your search process. You will find things much easier when you apply these tips.
1. Take the initiative by starting conversations with folks in your network and in the network associated with the jobs you're applying for. You might come upon some unique opportunities, and at the very least you'll get your name out in the open.
2. Maintain a positive online identity that distinguishes you from others. This can involve your use of Facebook and Twitter, as well as job-specific sources such as LinkedIn.
3. Don't give up when things get discouraging. Be persistent and prepare yourself for a potentially lengthy search-especially if you want to get work you'll be really happy with.
4. Whenever you get a response, follow up on a job lead, even if it doesn't seem that interesting or would only be a temporary fit. You don't have to take the job, and there's no telling what other opportunities a correspondence might open.
5. Consider the support offered by job clubs and other support groups. There are many to be found in the area that will help your search.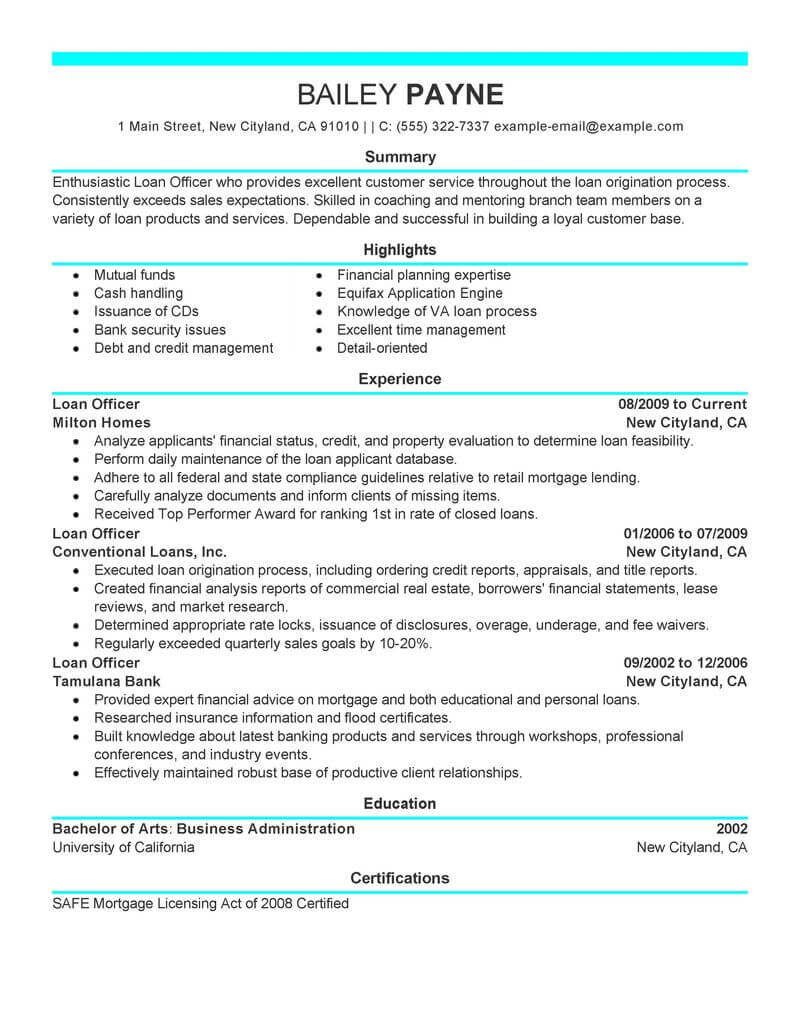 Loan Officer Job Seeking Tips
If you want to be fully confident as you progress in your search for jobs as a loan officer, you'll want to have a great resume. Following these points will strengthen your resume writing skills.
1. Head your job experience as Experience, not Employment. The best angle for this part of the resume is to cover all kinds of experience relevant to the job being applied for.
2. Your accomplishments matter, and are important to list. If you have three or more accomplishments, place them in a bullet list in a separate section before your experience.
3. You do not need to list the contact information of previous employers unless you are asked. Do include the company and its location, as well as the dates you worked there.
4. Unless a job involved some experience that is highly relevant to the job you're applying for, only include jobs worked within the last fifteen years.
5. Your resume is not a cover letter, and should not use personal pronouns. Consider statements in your resume as first-person sentences with the personal pronouns removed.