Creating a delicious nutritionist resume can help you land your next job. Nutritionists use food and nutrition to promote health, manage diseases, cope with allergies or manage weight. Your resume should outline your past professional experience, as well as any special skills you might have, such as recipe development and meal planning. Since nutritionists typically work one-on-one with clients, soft skills such as great written and verbal communication and compassion can set you apart. Be sure to include your education, including any certifications you've earned. For more tips to sink your teeth into, check out our nutritionist resume example.
Nutritionist Advice
If you care about healthy living and healthy eating, consider a career as a nutritionist. Nutritionists make a difference in health outcomes for many people, and finding a job in this rewarding field starts with the right resume. Not sure where to begin? The resume examples below can help. Use these examples to see which elements should be included in your nutritionist resume, then build your own resume based on your personal background. Get started today and get into a healthy new career!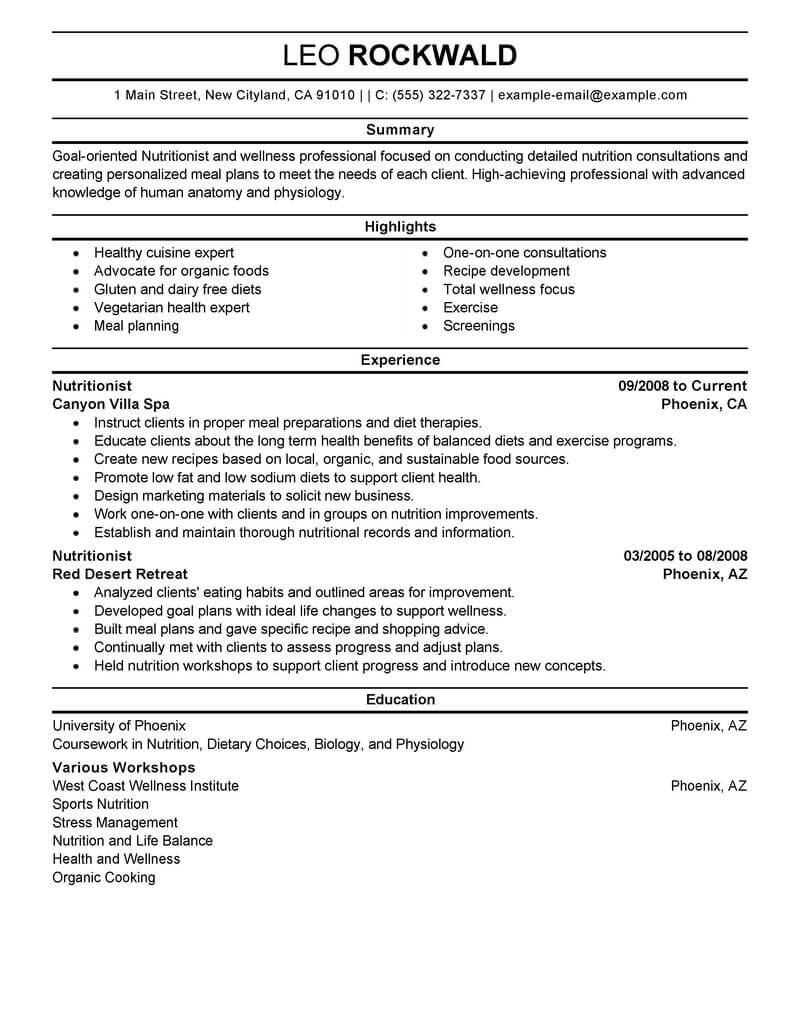 Resume Tips for Nutritionist
Jobs as a nutritionist, as is the case with almost every industry in the United States, can sometimes be a bit difficult to come across. However, there are certain steps which any applicant can take in order to make their job hunt more successful and less stressful.
1. Look high and low for job opportunities. Many available positions in small businesses are often overlooked simply due to lack of exposure.
2. Be persistent. Just because an applicant at first receives a rejection, it does not mean they should give up hope.
3. Pursue all job leads diligently. Unless a firm "no" has been received from a potential employer, an applicant may still have a shot at the desired position.
4. Attend any local job fairs available. This can both open new doors and allow one to gain a better understanding of the local job market.
5. Attend classes which aim to help those looking for work sharpen their interviewing skills and build resumes.
Nutritionist Job Seeking Tips
Regardless of age, experience or education, the most important aspect when it comes to looking for jobs as a nutritionist is a well-polished resume. While there are many qualities which employers debate over when it comes to what creates a great resume, there are some factors which are consistently favorable on any document of this type.
1. Always list work experience and education in reverse chronological order. This helps to insure that the most relevant information comes first.
2. Do not fill a resume with "fluff," including irrelevant hobbies or other information that does not apply to the desired position.
3. Use a little color or a new layout in order to ensure that your resume stands out in the stack.
4. Provide contact information that is appropriate and professional, including email addresses and voicemail messages which a potential employer might encounter.
5. Always check to make sure that spelling and mechanics are correct. Mistakes in these areas can be catastrophic on a resume.