MyAssignmentHelp.com Review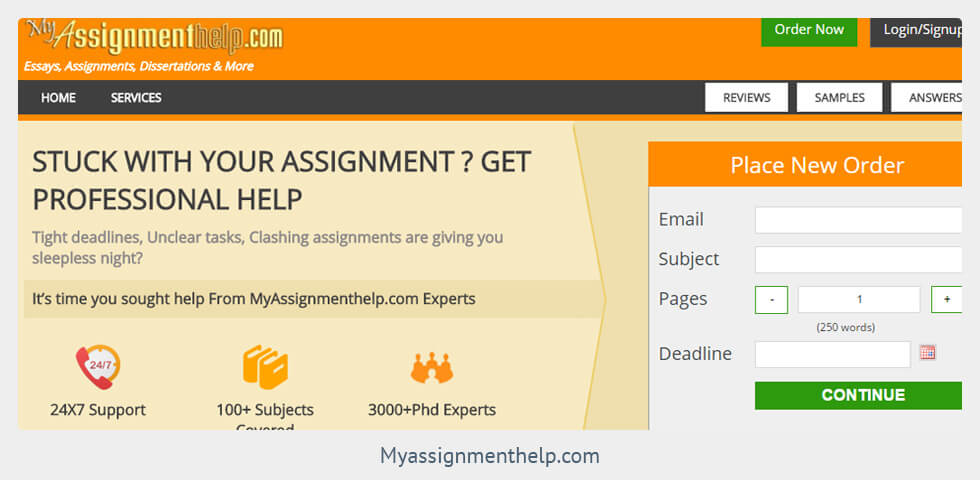 My Assignment Help is a consulting company that offers a wide range of services performed by allegedly over 300 professional writers with PhD degrees in their respective fields. These services include, but are not limited to, custom academic writing, case study help, programming help, business consulting, etc. In this review, we shall focus on the custom writing services. The company claims that all the writers that they work with are all from the UK, the US, or Australia. So, we naturally expect their writing to reveal both substantial expertise on the given topic and the brilliant writing skills.
The website Myassignmenthelp.com com has an upbeat yet pretty generic look. You can easily find all the services that you can order from them, but we could not spot a comprehensive price list or a calculator on the website. It is quite inconvenient, because when a student (or any other person) finds him- or herself in need of a writing assistance, it is good to have something that resembles a ready price before your eyes, so you could see whether it fits your budget or not.
SERVICES OFFERED
As we have mentioned earlier in our review, the range of services offered by My Assignment Help company is quite extensive. When it come to custom writing, their services include essays, book and movie reports, and reviews, speeches, term papers, course works, dissertations, theses, homeworks, etc. Such a wide variety may be a bit confusing, but if you think about it, it is actually a good thing, because it allows the customer to pick precisely what they need before placing the order.
You can also specify the quality that you would like your writing to be executed in. It can be Standard, Premium, or Platinum. This looks like a weird choice of terminology for the quality of your custom writing, but it is probably justified, since – as we have mentioned – the company offers much more services than just custom writing. Presumably, "standard" quality stands for undergraduate papers, "premium" stands for bachelor's, and "platinum" - for the Ph.D. level.
Naturally, all of these are done by their top-skilled PhDs with the utmost attention to quality, timing, and originality.
PRICING
As mentioned before, the comprehensive price list is either absent on the Myassignmenthelp.com website, or hard to find. So is the price calculator. However, we have inquired at My Assignment Help's very friendly and welcoming customer support about this issue, and they have willingly shared this information. So, a basic "standard"-level one-page essay that is due in 10 days will cost $19.99. As for the upper limit, a "platinum"-level paper with an urgency of three hours will cost you $52.99 per page. Such prices are notably above average on the custom writing market, but it could be justified if we remember that it is written by a Ph.D.
CONCLUSION
The customer reviews are mixed. People have no claims over the level of expertise revealed in the papers ordered from My Assignment Help, neither have they any complaints about the timing, originality, etc. However, they seem to be unsatisfied with the language skills of the writers.
So, if you are positive that language skills are not crucial to your writing, you can rest assured that a paper ordered from My Assignment Help will not fail. However, it is possible to find better offers at this price.
Discount code:
Mr15K26yuo