MeldaResearch.Com Review
Meldaresearch.com has some glitches that pop up in your eyes from the first click on their website. There are some strange letters and words of another foreign language intertwined with English words on the site and the text itself is very small, too small than the website standards we've been accustomed to. The information about the site is repetitive, it's everywhere and it is pretty much the same, so, as a client, you don't really know what to believe. The overall aspect of the site makes you doubt their services from the beginning. They have to invest a little bit more in the design if they want to look professional in the future.
We've checked the 2 addresses they provide on the site. The one in New York City does not exist. Strange. Another strange thing is that they say they have been offering writing services for 8 years straight, although, on other parts of the site, you will find their other statement which says they've been on the market since 2001. Is math that difficult or are we talking about 2 different writing services? The testimonials from their site are another problem, they're not newer than 2 years. What happened? We went on further to see.
The writing services
They boast that any student, of any academic level, can order any type of paper, from research papers, to presentations, admission essays, reviews, speeches even. They also offer editing and proofreading, re-writing. This re-writing service, they call "rectifying". Interesting.
Also, they offer higher level papers, like dissertations. You can either order a full one or just chapters.
How trustworthy is the platform?
We've told you earlier that the very aspect of their website makes you doubt them, not to mention the inexistent New York address that we've mentioned above. We opened another browser tab and went on to look at what others have to say about MeldaResearch. We found complaints about late deliveries, no response from the writer or customer support when it came to making revisions to one of the papers they provided.
We wanted to talk with a representative, so we made a call using the phone number provided on their site. No answer came from the other side, only a message stating "The wireless customer, you have called is not available. Please try again later". We were quite annoyed, but we didn't give up and tried to have a chat using the online chat box. Our first attempt failed. After 10 minutes, there was nobody to take our questions. After a while, we succeeded to get in touch with a representative who was quite evasive in answering our questions. What was very striking was that we were assured that in 3 days, we could get a full dissertation of 200 pages. Are they geniuses or supermen?
Quality levels were not satisfactory
When you are a custom writing service, you should take greater care of how you express yourself on your own website, right? They don't do that. Their overall rating on the Internet is very poor. They do not do revisions when asked to.
We asked for a research paper which we got back with a very poor English and a middle school student resources.
The pricing system
The college essay we ordered, 8 pages, with a deadline of 7 days cost us $135.60. A new customer gets a 35% discount. There are no other discounts available or special offers. We made the payment with a credit card and it was ok. It is safe. You can pay with a credit or debit card without any hesitation.
Extra features
The extra features they say they provide are ok: the usual free pages, title, bibliography, free revisions and formatting and someone by your side 24/7. Not all of them are respected, of course, but they say they do offer them. They also have some sort of VIP service that you can benefit from with an additional sum of money, $10.00 to be more precise.
Conclusion
They are not members of BBB. No surprise with that. This is where we would usually take into consideration the pros and cons of this writing service, although it is very hard to find any pros here. Impossible, even. The writing service is not a fraud, meaning you get your paper. The quality of the paper is very poor, the communication with the writer does not exist, customer support is unable to help and the free revision you were meant to get is quite tricky. Apparently, from the reviews of other clients, the writing service had no response to their revision requests. Definitely, we don't recommend it. They also have a fake address on the site, writers who don't speak English very good and poor quality of the writing and poor communication. All in all, it is a poor writing service. You might as well write your essay yourself than throw money on this.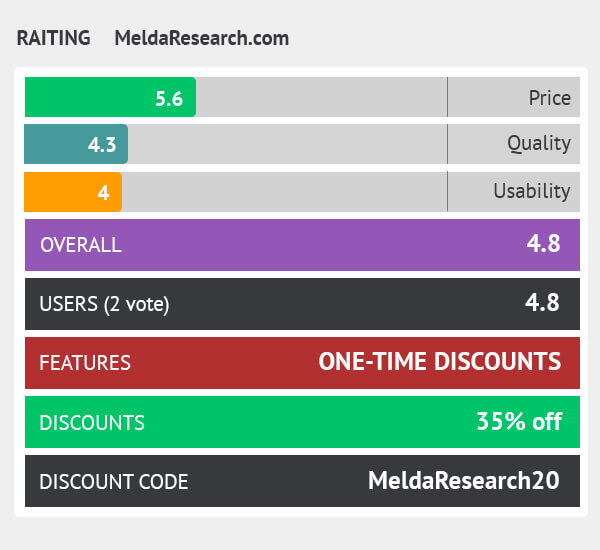 Discount code:
Mr15K26yuo