When you write your cover letter for a position as a crew member, there are several important things to keep in mind as you write each section. Because being a crew member requires excellent communication skills, it is crucial that your cover letter is professional and well-written. Peruse our crew member cover letter example and the beneficial tips given to create your own strong cover letter.
Do consider using a story to illustrate your experiences and display your personality. When looking for crew members, hiring managers are often searching for candidates with character.
Don't be afraid to be a bit informal. Sometimes the cover letters hiring managers spend time reading are the ones that are interesting rather than the ones that follow all the rules.
Do tailor your cover letter to each position you apply for. Hiring managers can be frustrated by generic cover letters that are mass-distributed to multiple companies.
Don't use negative or apologetic language. Saying things like, "although my organizational skills are limited" only draws attention to what you can't do instead of focusing what you are best at.
Crew Member Advice
If you're seeking a job as a crew member, it takes experience, a desire to succeed, and a cover letter that shows why you're the best candidate. Our cover letter examples below can help you write your own crew member cover letter faster. Use these cover letter examples as a starting point, then take the next step in your career with a killer cover letter of your own.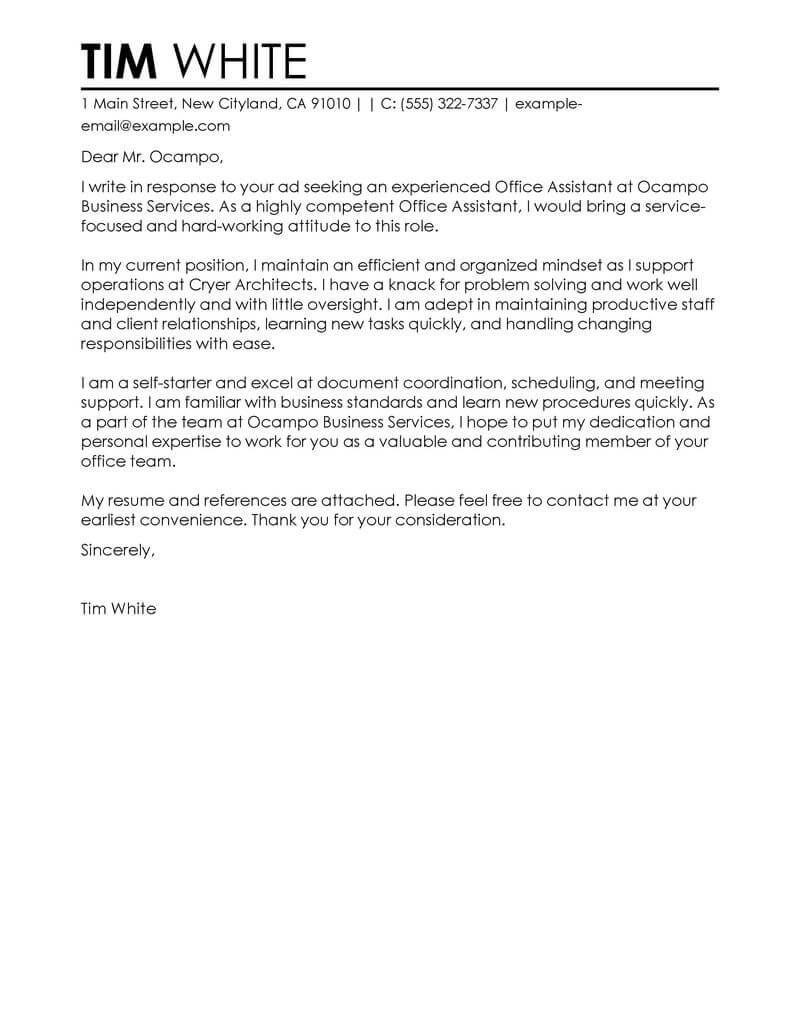 Cover Letter Tips for Crew Member
Finding jobs as a Crew Member takes some hard work and a great attitude. Having advanced job-seeking skills helps, too. More frequently, employers are checking social media profiles to find the best match for their needs. These social media tips can help you reach your employment goals in any market.
1. Make sure to include a hyperlink to your cover letter within your social media profiles. If you are tweeting about a job search, include a shortened link to your cover letter. You never know who might see your post and assist you in getting that job.
2. Form networks at every opportunity. Social networking is an important skill that connects you with professionals in not only your intended field, but others that may be beneficial as well.
3. While you should frequently utilize social media to network, connect face-to-face when possible. Create a business card with your name and email address on it. List your best skills, even if you don't have a business of your own. This can be a great way to keep your name in front of those who might help you later.
4. Be sure to keep your social media personal profiles private and update your professional ones. Every new skill should be listed as soon as you gain it. This increases your value and makes you a more desirable candidate.
5. Even though you might not be looking for a professional type of job, set up a LinkedIn account anyway. You can connect with some great resources via the millions of users in thousands of different professions on the platform. Some of them could help you get that great new job.
Crew Member Job Seeking Tips
When it comes to hunting for jobs as a Crew Member, you will need a well-written and noticeable cover letter. Grab their attention by creating a cover letter that highlights your skills and lists your qualifications. Show them you're the best candidate with these helpful tips.
1. cover letter styles have changed rapidly over the past few years. Tailor your cover letter to the type of job you wish to get. The layout could be clean and professional, minimalistic or edgy, but make sure it fits with the culture of the company.
2. Why are you the best candidate for the job? Once you know the answer, be sure to outline it on your cover letter.
3. Do some research on the company to which you are applying and tailor your cover letter as well as your cover letter to match the job. It will help you stand out from the rest.
4. For safety reasons, make sure not to put personal information like your Social Security number, physical address or birthdate on your cover letter. Do include your email address and phone number so the potential employer may contact you for an interview.
5. Use bullet lists for your accomplishments, skills and qualifications. Be sure to mention your education and any awards you won at other jobs.