If you want a great salesperson job, you need to start by putting together a great cover letter. A strong letter can set you apart from the competition, so look over this salesperson cover letter example and see how the following do's and don'ts can help with your job search.
Do focus on what you bring to the table. The applicant in our example talks about his passion and enthusiasm for sales, which are qualities any company would want from their employees. ?Don't be too technical. It's good to include relevant metrics and data, but you also need to show that you're personable and the type of salesperson others can get along with.
Do list education if it's relevant. A good degree from a reputable school can be impressive, but you don't need to worry about education information if you feel there are better ways to promote yourself.
Don't be afraid to get creative. As long as your cover letter showcases your salesperson skills, it's OK if it's a little colorful and unique. Just try not to take it too far.
Salesperson Advice
Are you a salesperson looking for a new position? Do you need to create or upgrade your cover letter? Our specific cover letter examples, geared toward salesperson jobs, can help. Choose from multiple template designs, and customize your cover letters look to fit your needs. Click on any of the cover letter examples below, and use or edit the text samples to your specifications, and get a job-winning cover letter in no time!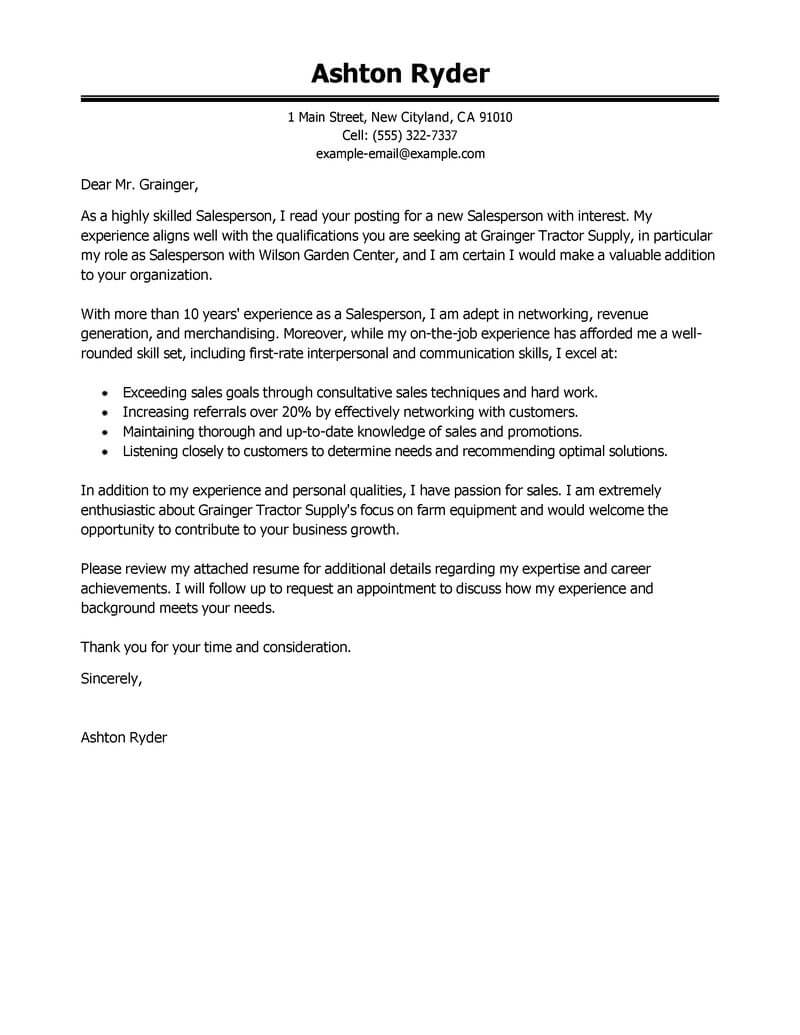 Cover Letter Tips for Salesperson
A competitive job market calls for a definitive strategy. If you want to find jobs as a Salesperson that match your interest and skill level, you need to do your research and know where to look. Here are some guidelines to follow as you search.
1. Identify your transferrable skills. Take some time to reassess your skills and experience. In a competitive job market, it's important to flexible. Consider some certification courses if you feel weak in certain areas.
2. Document your progress. It's important to write down the details of each application, including the day you submitted your cover letter, which cover letter copy you sent in and which people you spoke to. This will help you quickly recall information if you are contacted for an interview.
3. Network online and offline. It's crucial to maintain on online professional profile, especially if you want to be noticed by recruiters. Equally important is your ability to network offline. Go to career fairs and try to connect with local professionals in your field.
4. Know the market. Don't go into your job search blind. Do some research, read up on local employers and find out where people work. You might discover you already have a connection you can use.
5. Show some gumption. Persistence is an admirable quality, and a smart employer will recognize the effort. Politely follow up on your applications after one week, and don't be afraid to ask to shadow someone, visit a location or otherwise learn about a company or industry. After all, employers also want to work with people who are teachable.
Salesperson Job Seeking Tips
Almost all applications for jobs as a Salesperson and Hanford will require you to submit a cover letter. Spend some time to make yours professional. Here are some tips.
1. Make it easy to read. A busy-looking cover letter is one of the key things to avoid. Use formatting options that are easy on the eye, including bullets and numbering. Use bold and italics sparingly and only on job titles or other elements you need to highlight.
2. Don't leave off partial degrees. Education is education. You can list specific coursework if it's relevant to the job.
3. Focus on accomplishments. Don't just list your job duties. Tell employers what you've actually achieved for the company.
4. List chronologically. Employers care most about your recent experiences, so keep these at the top of each list. If you're a student, you can put your education first. Otherwise, start with your work history.
5. Include a phone number and email. Some employers like phone calls, while others prefer electronic communication. Be sure to provide both options.