Kibin.com Review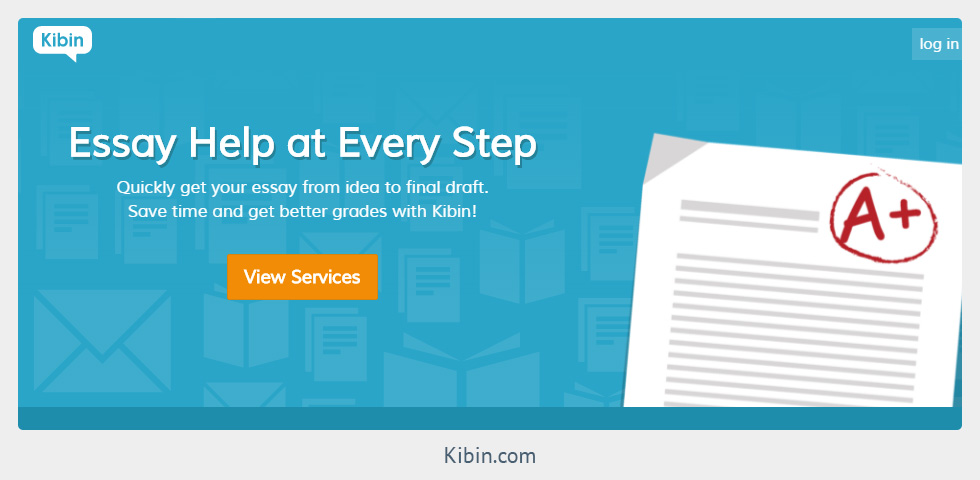 Kibin is not exactly a writing service. Rather than writing a chapter or an entire paper, they will proofread and edit your writing to give it a more academic look. Naturally, they do not just check your spelling and grammar. You wouldn't need an online service with actual people to do that, it can be done by software. Instead, they claim that their editors – who are native English speakers from all over the world – will "improve your paper on various levels."
SERVICES OFFERED
People from Kibin.com will not write your paper for you, but they will help you to refine and perfect the already written paper. They will edit various papers – from personal statements to ordinary essays or lab reports. So, in order to use their services, you need to write the paper first. If you have difficulties putting a draft together, then you should probably look for more substantial assistance elsewhere.
Their services, however, are not limited to editing. Their subscribers get access to the database of as much as over 500 000 written papers. This is very helpful when you find yourself stuck in a writer's block and need some inspiration. This is a good way to brainstorm new ideas.
Another interesting thing that you can find at Kibin.com website is the free Thesis Builder tool. As one can guess, it facilitates building your thesis in a more well-structured way. The website also has writing tips and recommendations.
PRICING AND SPECIAL OFFERS
Kibin.com claims to employ highly professional editors, and this is meant to justify their prices. They are not very cheap. The exact price of a writing service will be calculated based on the volume of the paper to be edited and the urgency. For example, if you want a 1000-word paper edited in three days, it will cost you $35. But if you only have three hours, the price rises to $49.50. With such pricing, it is worth considering if you even want this kind of service, since there are custom writing companies who will write you a completely original essay from scratch at a more affordable rate.
We have mentioned the subscription granting access to the extensive database of essays. It has a monthly and a yearly plan. The latter costs $94.50, but if you only want it for one month, you can get it for $24.95.
Considering their high prices, one would expect Kibin to offer an abundance of discounts and special offers. Sadly, though, we have failed to find anything of the kind, which is a disappointment.
However, they do have a special offer for their subscribers of the essay database mentioned above. Basically, they return you the money that you spend on the subscription plan in the form of credit that you can spend on their editing services: $25 credit for a monthly subscription and $100 credit for a yearly subscription.
SERVICE QUALITY
To test Kibin's services, we ordered a 500-word essay to be edited in three days. The essay was left with purposeful grammatical and spelling errors, as wells as examples of a poor choice of words and unclarities concerning sentence structure. To their credit, they returned the edited essay one day early. The problem is that it was not really edited, but rather proofread for grammar and spelling errors. As we know, this might as well be done by software at a much more reasonable price. As for the choice of words and sentence structure, it sadly remained unchanged, even though there was a lot of instances that could be improved.
CUSTOMER SUPPORT
Kibin offers plenty of ways to reach them, should you have any questions regarding your cooperation: there are several social media accounts, an email, and even a live chat. No phone number, though.
Also, one needs to realize that when they claim that their services are available 24/7, they mean their editing services. As for the support, it can only be reached on weekdays 9 AM through 5 PM EST. We have found it out by trying to reach them via their live chat on Sunday evening and getting a reply only the next day. This is unacceptable because students – their clientèle – have quite sharp deadlines to meet, and inability to reach the support in due time can be critical. If you pay this much, it is only legit to expect top service when you need it.
CONCLUSION
Since Kibin.com works on the market, apparently, there is a demand for their services at the prices that they set. In our humble opinion, however, it is possible to get a better and more comprehensive service for a better price.
Discount code:
Mr15K26yuo