You need a well-written resume to get interviews. As a forklift operator, it's important that you start by expressing your efficiency and accuracy upfront. Next, make sure that your certification field is placed in an easy-to-see position on the page. In your skills section, consider including soft skills such as your strength, organization, and communication capabilities. Don't make your work experience section section just a list of duties. Instead, detail your proudest professional accomplishments, choosing achievements that demonstrate your efficiency and accuratacy. To get more guidance and insight, see the forklift operator resume example.
Forklift Operator Advice
Looking for a job as a forklift operator? The resume examples below have been created to help you write your own forklift operator resume. Choose from multiple template and design options, and use the pre-written text as a guide in putting your resume together. Take the next step toward the career you want. Click on any of the resume examples below to get started today.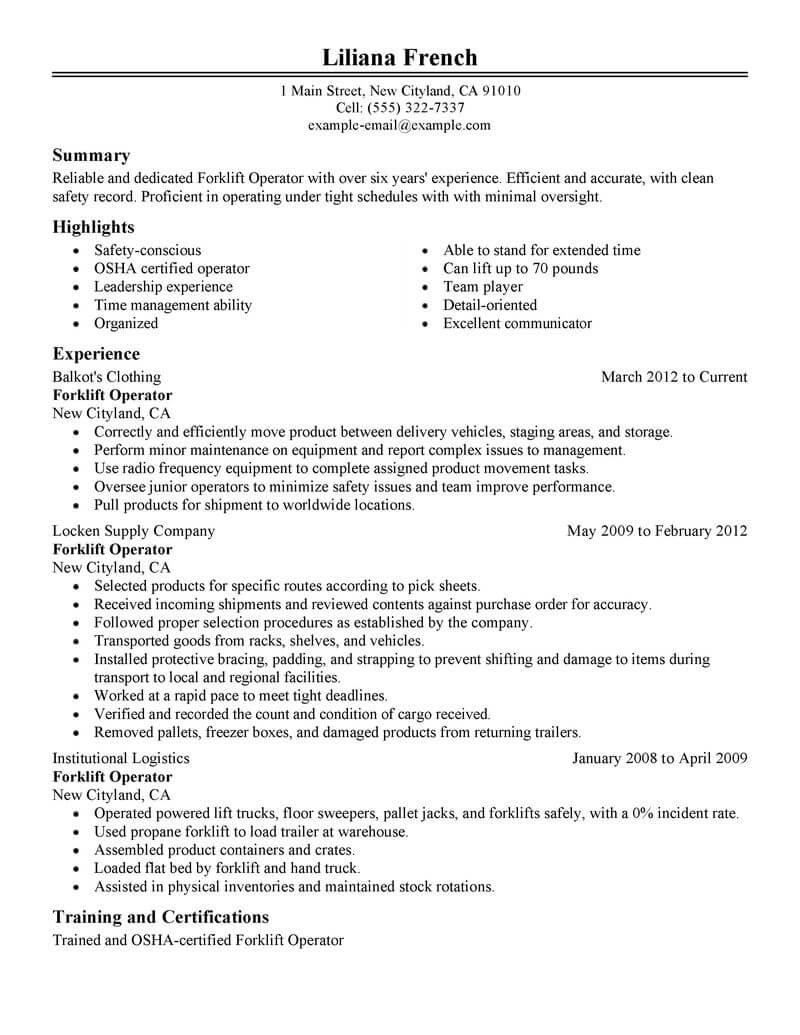 Resume Tips for Forklift Operator
When searching for jobs as a forklift operator or in any other industry, your best hope for success is to take the right approach to the task. Here are some ways you can improve your chances of landing your dream job:
1. Be honest with yourself about which aspects of the job search you need to work harder at, and then work harder at them.
2. Do not limit yourself to what you think you can do. Instead, try to think of new ways you can use your current abilities. This will enable you to broaden your search parameters and apply to more positions.
3. Take responsibility for your job search, treating it as your occupation and as an opportunity to make positive changes in your life.
4. Take the time to plan your job search so you can be sure to cover all bases. Organizing your search at the outset will help you set and accomplish goals.
5. Network as much as you can. Hiring managers are more likely to hire based off of a referral than any other hiring method, so you need to make plenty of connections.
Forklift Operator Job Seeking Tips
As is the case anywhere in the U. S. , one of the most important aspects of a successful search for jobs as a forklift operator is an exemplary resume. No matter what your career field or experience level, you can benefit from applying these tips to your resume:
1. Proofread repeatedly. You should even have a trusted friend edit it for you, too. Spelling, grammar and formatting errors tell hiring managers that you are not worth seriously considering.
2. Emphasize what your accomplishments were in your previous positions, not just what your job responsibilities were.
3. Highlight your transferable skills. This will convey that you are flexible in your abilities, and will open the door to more jobs for you.
4. List your education information in the following order: Name of degree, name of major, name of school, city and state of school, and year of graduation.
5. Be aware that including the phrase References available upon request is not really necessary, so if you are running out of space this is a good thing to omit.