With more students graduating from law school each year than jobs that are available, the importance of having a great resume cannot be overemphasized. Inclusion of the J.D. suffix after your name and listing your degree, academic accomplishments, and licenses held are requisites. Specific legal experience in different industry segments such as healthcare, finance, and insurance help separate your application from the those of the rest of the crowd. Accomplishments are also important to include; corporations and legal firms like to see the results applicants have accomplished in the past. See our attorney resume example for other ideas.
Attorney Advice
Whether you're an experienced lawyer or fresh out of law school, landing a job as an attorney requires the right education, the right track record, and the right resume. Our attorney-specific resume examples can help with the last part. Choose from a range of designs and templates, and use the content in our resume examples as a useful starting point in crafting a stand-out attorney resume that will give you the best possible chance of getting hired by the firm of your choice.
Resume Tips for Attorney
If you are about to embark on your quest for jobs as a attorney, there are a few things to keep in mind. Though the process can be strenuous, if you follow these guidelines, you can improve your prospects.
1. Read a book. There is plenty of literature written about finding jobs, and much of it is tailored to specific fields. Look to see if there are any books relevant to your job search, and if there are, turn there for some additional insight.
2. Attend a seminar. If you look up job seminars in your area, you may find that community centers and non-profits host events for local job seekers. These can be great opportunities to learn and network.
3. Keep busy. It can be difficult to strike a balance between overworking yourself and wasting time. Keep yourself moderately busy throughout the day with submitting resumes and following up, but don't work so hard that you feel overwhelmed.
4. Look for internships. Many people rule out unpaid work in their job search, but you may be limiting your opportunities by doing so. If you know an employer is seeking to fill a position, whether it is paid or not, you should submit your resume and see if any opportunities for salaried positions exist.
5. Cultivate your online presence. It's common sense to scrub the web of any unflattering information or depictions an employer may find, but you can be proactive and actually plant positive information related to yourself. Start a professional blog or LinkedIn profile to put your best foot forward.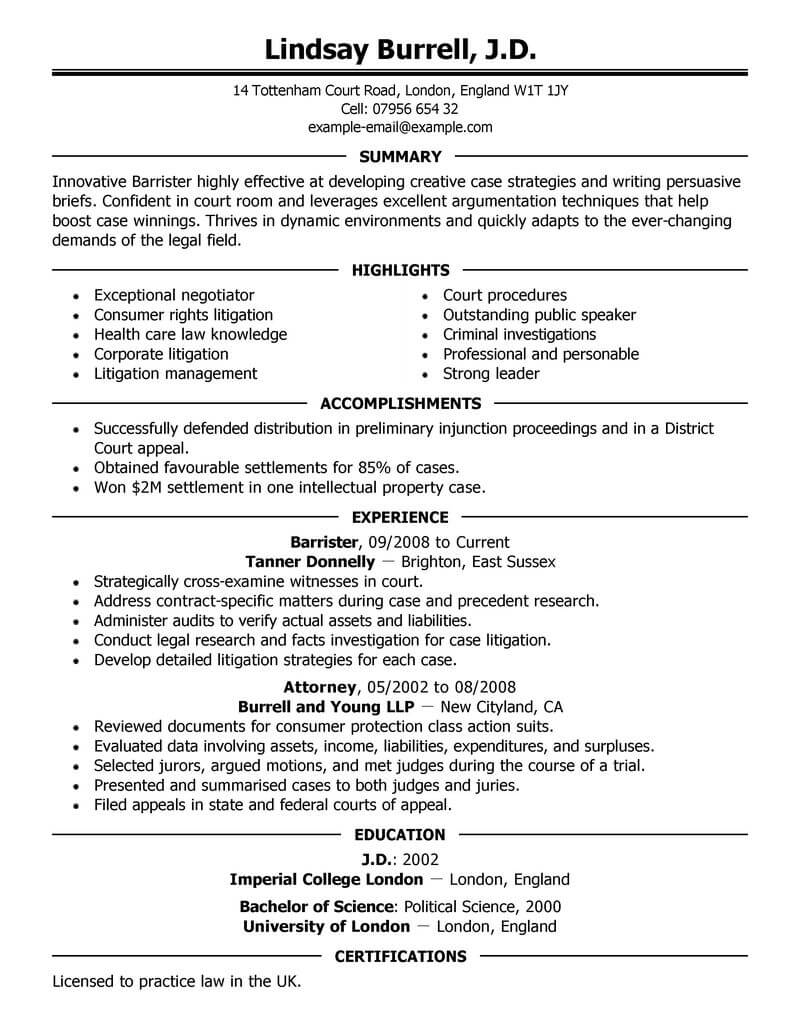 Attorney Job Seeking Tips
Polishing a great resume is the key to finding great jobs as a attorney. Regardless of the field you are seeking employment in, there are some rules to keep in mind when you are working on your resume.
1. Invite readers to learn more. If your reader has taken the time to read your entire resume, they might want to learn more about you before giving you a call. Include direction to a blog or professional profile where they can see more in-depth information.
2. Complete a preliminary self-assessment. Sitting down and investing some time in introspection can really help you pare down what your most important qualities are.
3. Remember your reader's attention span. Humans are known to have surprisingly short attention spans, so keep this in mind when you are constructing your resume. Pack the most important information towards the top.
4. Utilize resources. Some community centers or colleges have resume helping software available. Look to see if there is a location near you where you can utilize this and other resources.
5. Highlight computer skills. You may think it's obvious that you are proficient in the Microsoft Office suite, but none of your skills are a given. Mention your relevant skills so that employers know you can jump right into a job.