There's nothing that speaks to your excellent residential house cleaner abilities like a well-organized resume. Think about it: A neat and tidy document can immediately communicate your ability to keep a household spick and span. You'll also want to make sure you fill the work experience section of your resume with relevant details about your past duties and accomplishments. That means using bullet points to carefully lay out responsibilities, like vacuuming, mopping, cupboard organization, and even food preparation. For more insight into what to include, study the residential house cleaner resume example on this page.
Residential House Cleaner Advice
Looking for a residential house cleaner job? To get hired, you'll need experience, references, and a clear resume. The residential house cleaner resume examples below are a great starting point in building your own resume. Click on any of the pre-written resume examples below from our experts, and adjust the text to fit your background. Get started today and put yourself on the path to getting a job sooner!
Resume Tips for Residential House Cleaner
Finding jobs as a residential house cleaner takes a mixture of using job-seeking tips and having a positive attitude. The following advice can help you score your next position in the current job market.
1. Remain positive and talk to trusted people about your feelings and concerns. Reduce stress by doing activities you enjoy and exercise. It's also important to eat right and sleep well.
2. Make a job search plan. File for unemployment benefits if you are eligible and consider doing temporary work while searching for a permanent position.
3. Consider your options and identify your skills, values and interests. For additional help, attend job search training sessions hosted by support groups, job clubs, or libraries.
4. Networking is vital. Use social media websites such as LinkedIn, Twitter and Facebook to let people in your social networks that you are seeking a job. Talk to everyone you know, including your friends, family, neighbors, former colleagues and classmates, or even friends of friends.
5. Use all available resources. Search for jobs using electronic job search tools and websites, newspaper ads and in-person job fairs. Research possible employers, consult career resources, and read professional journals. Arrange for informational interviews to learn more about a company or a job.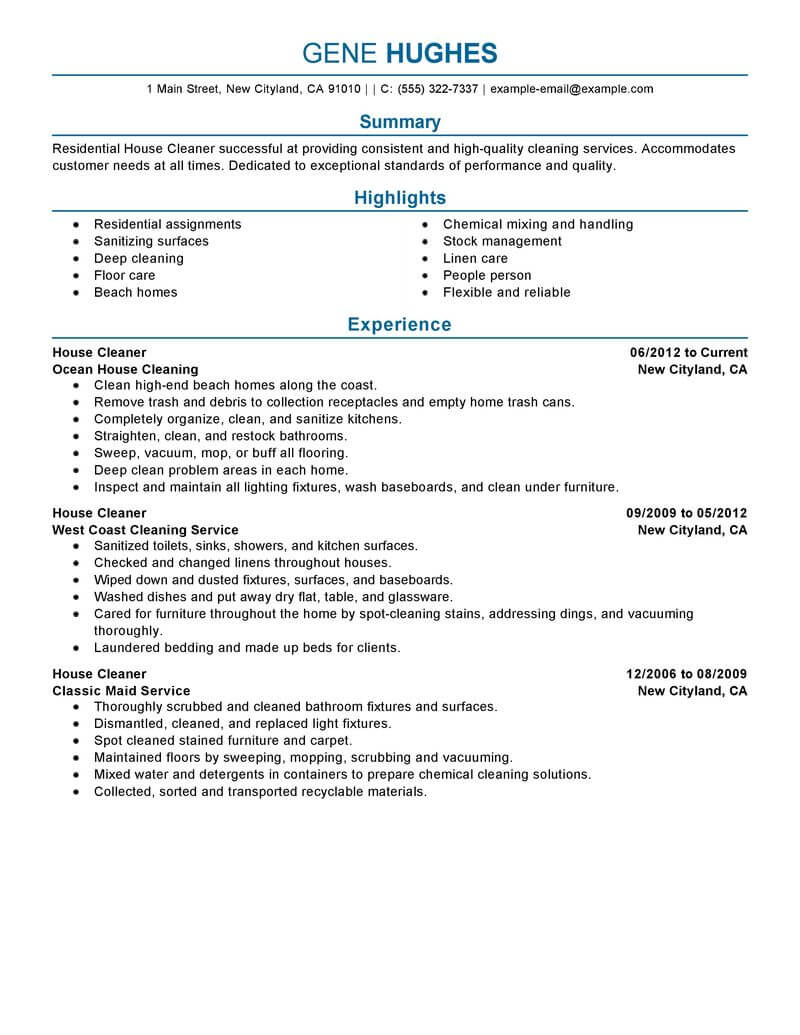 Residential House Cleaner Job Seeking Tips
When it comes to tracking jobs as a residential house cleaner, your resume is your personal brand. Use the following advice to make it attention-grabbing.
1. Use a bulleted style over paragraphs in your resume to make it more reader-friendly.
2. Do not go beyond two pages with your resume. No matter how much experience you have, the trend is towards shorter resumes.
3. Try to use a unique resume style to appear more distinctive. Avoid falling into the trap of using ready-made resume templates.
4. Include contact information in your resume. You may wish to keep your information minimal due to possible identity theft, but if you wish, you can include your city and state without including your street address, one phone number, one email address, and your URL, if you have a website.
5. List your jobs in reverse chronological order and be sure to include pertinent information, such as the job title or position, name of the employer, the location of the employer, and the dates of employment. Make sure to include job descriptions and use strong action verbs. Listing accomplishments add meaning to possible employers and help you stand out.