From hiring to budgeting, the store manager has an array of important responsibilities. To be considered for a store manager position, your resume must prove that you're prepared for the challenges that lie ahead. Start with a strong summary statement that emphasizes your managerial capabilities. In your skills section, note your sales talents, using sales data where possible. When you write your work history section, begin each bullet point with a managerial action verb. Consider using words like delegated, established, or initiated, to convey your leadership talents. For more insights, read through our store manager resume example.
Store Manager Advice
Are you interested in helping a small business succeed? Become a store manager for a small business or entrepreneurial venture. The resume examples below are intended to help people looking for store manager opportunities create a job-winning resume in minutes. With these resume examples, it's easy to build a store manager resume that gets results. Choose from multiple design and template options. Click on any of the resumes below to start right now.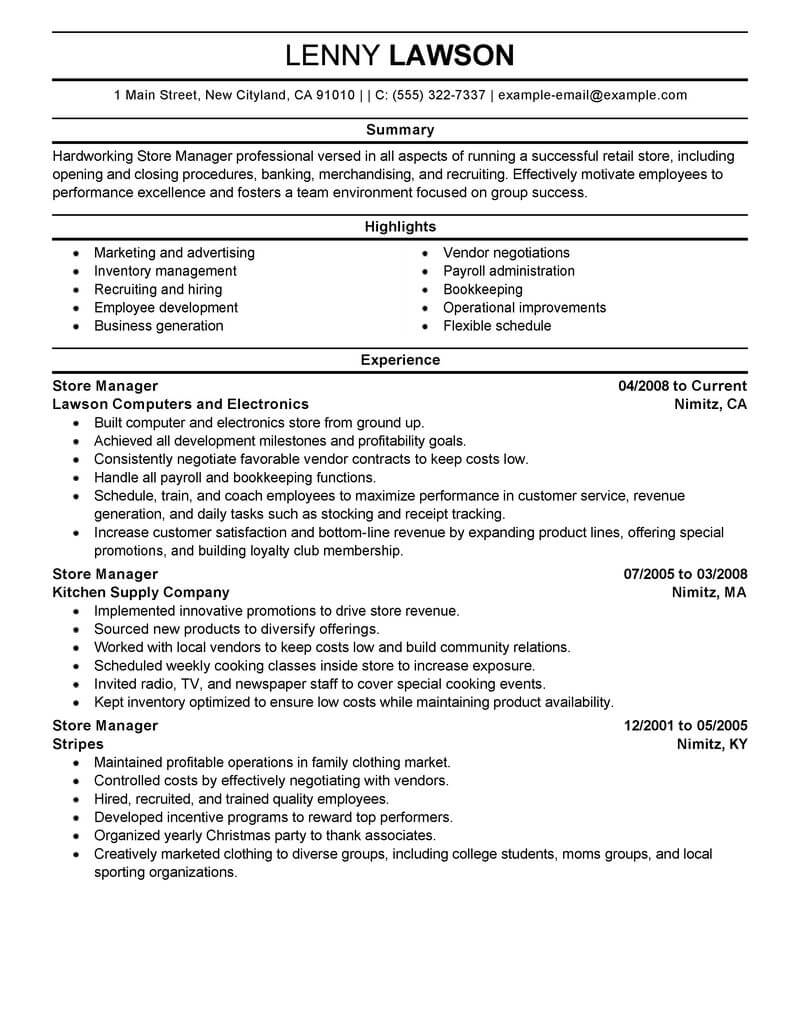 Resume Tips for Store Manager
Hunting for jobs as a store manager and areas nearby takes determination, confidence and a professional attitude. Follow these tips to reach your career goals despite the fluctuating market for employment.
1. Keep an open mind. Opportunities are plentiful for those who are willing to adapt to the needs of the economy, so consider brushing up on new skills or working in a field closely related to your own.
2. Stay active in your network. Don't use your professional connections simply as a stepping stone. Communicate regularly to share information about job leads, offer support and discuss upcoming developments in your field.
3. Be honest about your professional background. It is only fair to let people in your network know what they are dealing with, especially if you plan on asking for a referral.
4. Mix up your routine. It's easy to get burnt out searching the web or making calls, but you can break the monotony of endless applications by exploring the community or attending a job support group in your area.
5. Research new positions in your field. Technology and modern business practices are constantly evolving, creating unique branches of opportunity in anticipation of upcoming trends.
Store Manager Job Seeking Tips
Submitting your resume for jobs as a store manager should give you a feeling of confidence and excitement rather than doubt and anxiety. Use these basic resume tips to help you highlight your skills and communicate your career goals.
1. Do use bullets to organize each section. This makes your resume less difficult to read, especially if you have a long list of accomplishments to present.
2. Do consider using a creative template. For some companies, this is also an indication of your ability to think outside the box when faced with challenging situations on the job.
3. Do condense your work history as much as possible. Hiring managers are often swamped with eager applicants, so one to two pages is usually ideal.
4. Don't list the high school you attended. Unless you are still an attending student, this information should be replaced with more recent qualifications and achievements.
5. Don't include controversial information, such as age, religion or ethnicity. Employment decisions must be based solely on your experience and ability to perform.