HR coordinators are jack of all HR trades, and this is something employers look for when reviewing resumes. To distinguish yourself from other applicants, you need to ensure your resume demonstrates that you are experienced in all HR disciplines and have successfully performed tasks throughout all areas of the department. Applicants with bachelor degrees and professional certifications have a leg up, and thus make sure to include those in the education section of your resume. Additionally, if you have experience handling increasingly complex employment laws and healthcare coverage, make sure to highlight those as areas of experience and to spell them out in your individual accomplishments. See our HR coordinator resume example for more tips.
Hr Coordinator Advice
As an HR coordinator, you'll be helping people find the jobs they want, and companies find the qualified workers they need. To get hired as an HR coordinator, a solid resume is essential, and our resume examples can help. Designed to show what hiring managers are expecting from an HR coordinator resume, these resume examples are the perfect starting point for creating your resume. Click on any of the samples shown here to start now.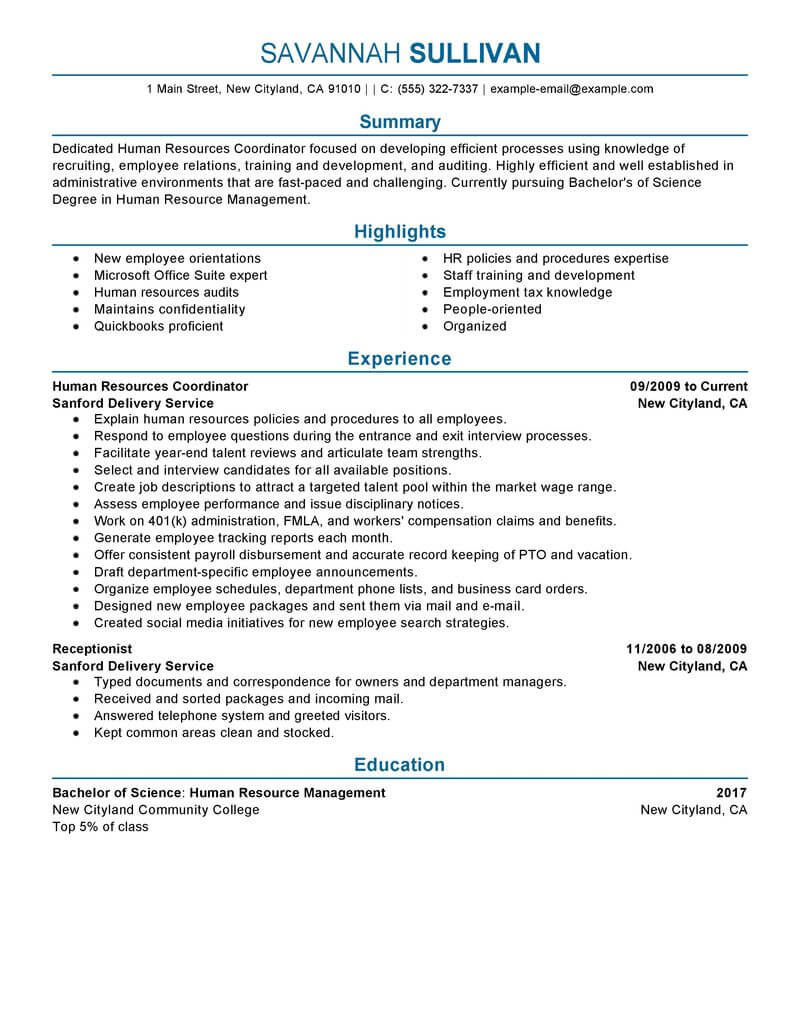 Resume Tips for Hr Coordinator
When searching for jobs as a hr coordinator, the process can be quite daunting at times. Those who have the right mindset and use their time wisely tend to find that the process is generally easier. The following tips will help you find success during the job hunt.
1. Network as much as you can. One of the keys to finding a job is to connect and talk with as many people as possible. Look for networking groups in your area, introduce yourself to professionals along your street, and network online.
2. Commit to doing at least one job-search activity every day. During a long process, it can be easy to slack off and lose steam, but having something that you do every day will help keep the momentum moving forward.
3. Consider all of your options. If jobs in your past industry are few and far between, think about using your skills in a different position or industry. This can also be a time to build new skills or go back to school to help you qualify for a wider range of positions.
4. Use different methods when looking for job leads. Online resources, the American Job Center, the library, job fairs, and talking with your personal network are just some of the options.
5. Make sure your resume is up-to-date. This is an important part of the application process when looking for jobs as a hr coordinator, so make sure that yours is top notch.
Hr Coordinator Job Seeking Tips
Having a resume that highlights all of your skills and past work experience can make the difference between landing the perfect job and being tossed off to the side. No matter how many years of experience you have, the following guide will help you design a resume that gets noticed.
1. Items that must always be included on a resume are your name, your city/state, one phone number, email address, education, and work experience.
2. If you have no real work experience, you can list transferable skills that you acquired from volunteer work, school projects, sports, internships, or campus activities.
3. Quantify your accomplishments in past positions. For example, list how many individuals you managed, how much money you saved, how many accounts you represented, etc.
4. If you held multiple jobs with one employer, list each one separately as this shows progression from one job to another.
5. When applying for jobs as a hr coordinator, do not list references on your resume, but have a separate sheet available for when a hiring manager asks for them.