Help people solve and cope with problems in their everyday lives by creating a standout social work resume. Social workers are employed in a variety of settings, so be sure to include relevant experience working in mental health clinics, schools, human service agencies, hospitals, and other environments. Next, since social workers must be licensed in all 50 states, be sure to list your education and licensing information so that employers know you meet the criteria. Also, list any special training you've received such as grief counseling or emergency response training. Finally, soft skills such a stellar communication can help boost your resume. For more ideas, use our social worker resume example.
Social Worker Advice
As a social worker, you'll be working not just to make money, but to improve the quality of people's lives. We've created the social worker resume examples you see below to help you write a better resume in less time. These resume examples include language that employers are looking for, as well as the proper formatting recommended for this type of resume. Improve your chances of getting the job–click on any of the examples below to take the next step.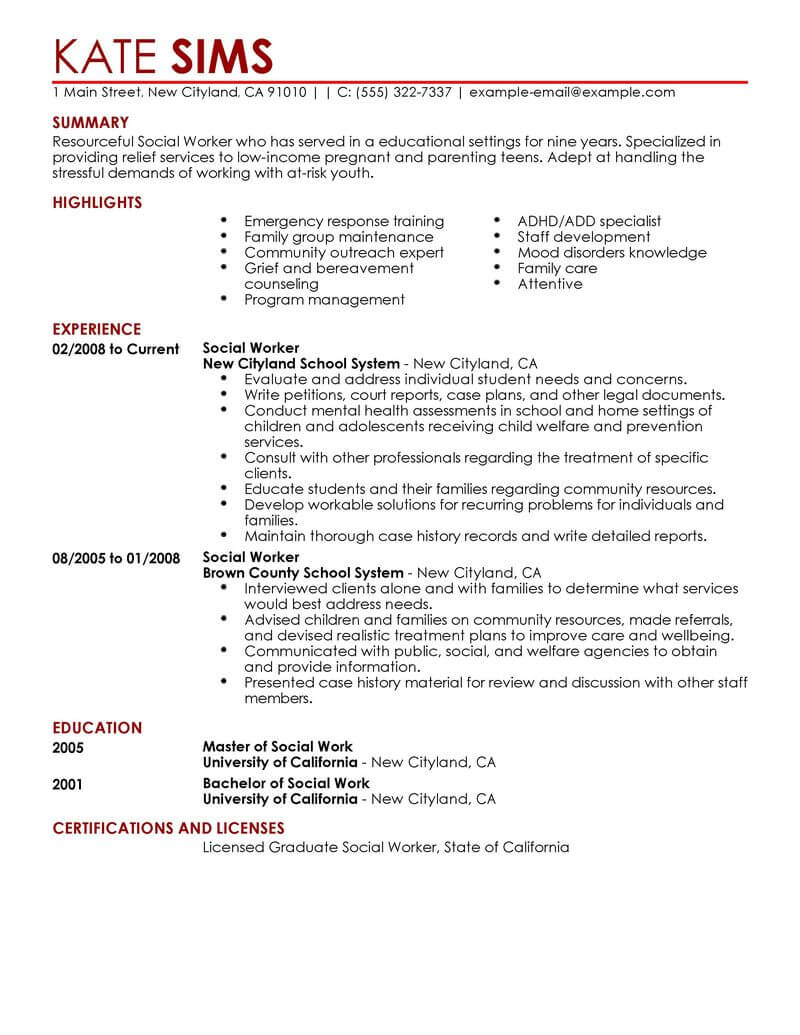 Resume Tips for Social Worker
There are some skills to keep in mind when it comes to looking for jobs as a social worker. This list contains five of the most important job searching skills.
1. Your job search may take a while and there's no reason why it shouldn't! View your search as a marathon rather than a race, and you will start to find results.
2. Think of how you can market your abilities to really help the company you're applying for. This entrepreneurial mindset will go a long way in helping to improve the way you sound to job candidates, especially if you have a more general skillset.
3. There are all kinds of resources available to you so hunt deep. Try out your local American Job Center for job search help.
4. There are also job clubs in your area where those looking for work can get together to pool their resources and create a network.
5. Consider taking assessments that will identify your skills, interest, values, or other traits. The Myers-Briggs personality type indicator is a great example of one of these that can help give you direction.
Social Worker Job Seeking Tips
One of the worst things you could do to sabotage you own search for jobs as a social worker is to neglect your resume. Your resume is the first impression you make to any potential employer. Use these tips in writing your resume and you will achieve better results.
1. Try to describe yourself as an active and unique worker. Don't use phrases like "duties included" or "responsible for" when you talk about your previous experience. Go beyond providing a mere job description.
2. Personal pronouns should not be found anywhere on a resume. Think of statements in your resume as first-person sentences with the personal pronouns removed.
3. You want your resume to be as organized and easy to read as possible. In order to achieve this, make sure you use bullet list format. Sections should have one or two columns with four to eight points per column.
4. Make sure to include the information for you previous employers that you describe in your Experience section. You should have an employer's name, city/state, dates of employment and the title of the position.
5. While the templates provided by Microsoft Word may be a good starting point, you will definitely want to tweak things up a bit for your final product. This way, your resume won't be in the same format as all the others that use the same template.