Finding your dream job or employer as a software testing professional is often tied to your resume. Crafting a resume that quickly and easily communicates why you're better than other applicants is critical. Your education and certification are two areas that you need to make sure are easy to find on the resume. Employers value these credentials in applicants. Your breadth of expertise in different programming languages and software programs also is important to list in your expertise section. And because communications and collaboration play a pivotal role in the interactions between you and other members of the development team, your interpersonal and communications skills are important to articulate-in both your highlights as well as in the experiences section. See our software testing resume example for more tips.
Software Testing Advice
Software testing professionals ensure that software programs run the way they're supposed to. To get a job as a software tester, an understanding of software and testing strategies is essential, as is a resume highlighting your experience. Check out our resume examples below for great examples of successful software testing resumes. Click on any of these resume examples to take the next step toward a stronger resume, and a better chance to get hired.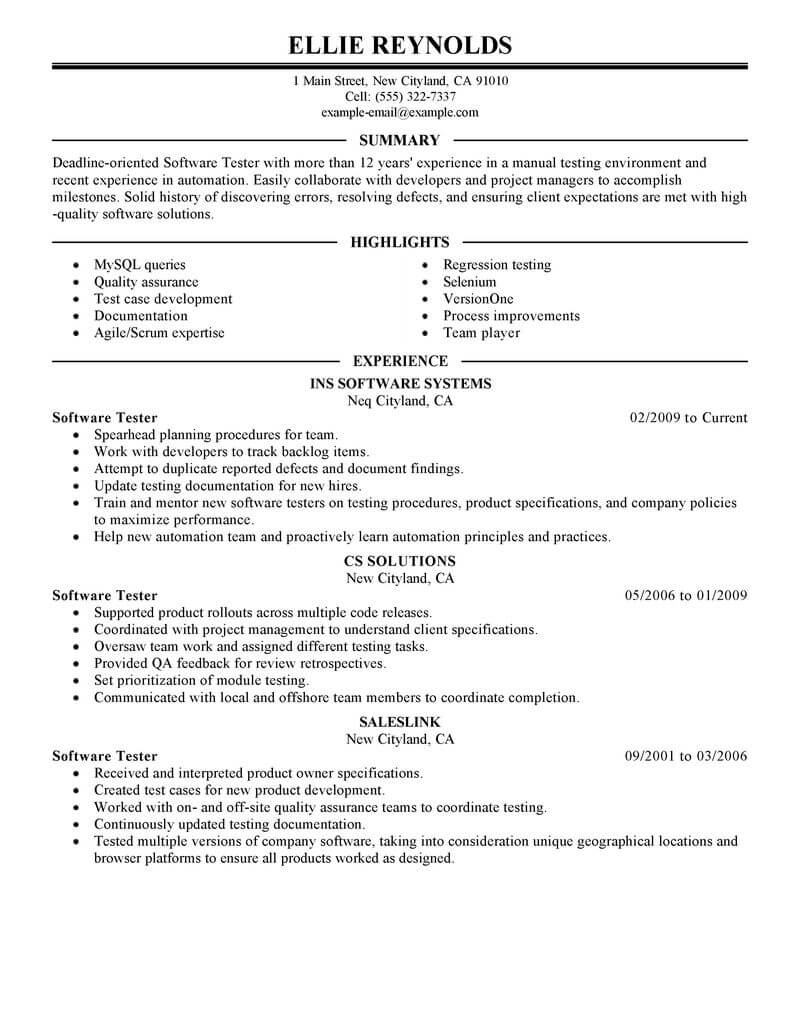 Resume Tips for Software Testing
If you are looking for jobs as a software testing, you will want to make sure you are using effective job seeking skills. The tips below should help keep you on track during the job hunt.
1. Stay positive. Most importantly, staying positive will help keep everything in perspective and remind you that your unemployment is only temporary. You could also join a support group to connect with others in a similar situation.
2. Set goals for yourself. Setting goals for yourself that can be accomplished on a daily or weekly basis is a great way to maximize your productivity. For instance, you might try sending out a certain number of resumes per week.
3. Get creative with your job search. Attend lectures and open forums about any industry or field that interest you. The more you are open to, the more opportunities will come your way.
4. Connect with your network. Don't hesitate to reach out to personal or professional contacts that could offer insight into the job market. Any advice will be welcome, and you never know where your next lead could come from.
5. Make use of social media. Use Facebook, Twitter, and LinkedIn to expand your network. These websites also help potential employers access your professional profile.
Software Testing Job Seeking Tips
When it comes to finding jobs as a software testing, remember that your resume often makes the first impression of you. Keep your resume in top shape with the tips below.
1. Don't exceed two pages. Unless you are an academic or doctor using curricula vitae (CVs), there is no need to write more than two pages. Keep your resume concise and relevant.
2. Do align the text flush left and make use of bullet points. These formatting tricks will increase the readability and organization of your work.
3. Don't rely on generic language. Overly used phrases such as hard working and team player don't paint a vivid picture of your unique professional experience and should be avoided.
4. Do use a Summary of Skills section to introduce your work history. This offers the reader an at-a-glance view of your professional qualifications.
5. Do list your work history in the following suggested order: title of position, employer, city and state of employer, and employment dates.