Your passion for the food and beverage industry should shine through in your server resume. And as this is a highly pressurized job that requires you to multi-task for long hours, it should also emphasize your ability to manage your time and work well under stress. Good guest relations is essential, and it's advisable that you refer to our server resume example for tips on how to highlight the key attributes you possess for this job. This includes a commitment to ensuring that all the diners' expectations are being met and that the restaurant maintains the highest service standards possible. Any previous experience training servers in food handling will be beneficial too.
Server Advice
Looking for a server job? A server may work in the restaurant or banquet hall of a hotel serving food and/or beverages to guests and customers. The resume examples below are intended for servers looking for a new position in the hospitality industry. They include content that employers are looking for, and can be customized to fit your needs. Click on any of the resume examples below to get started.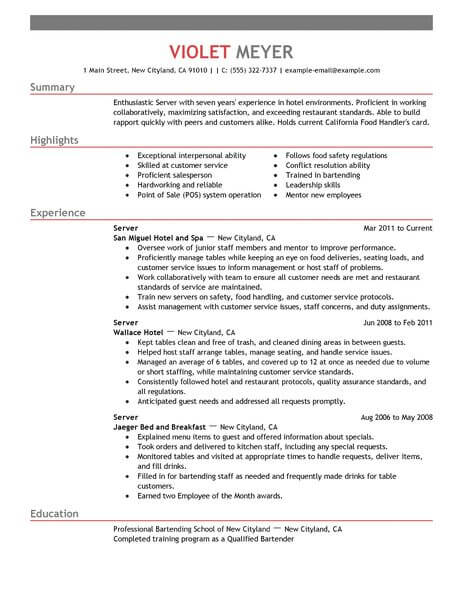 Resume Tips for Server
If you are looking for a new job as a server, your best bet is to hit the Internet and start searching. Of course, it is always possible that the perfect position for your qualifications and interests isn't found through the traditional means. These tips will help you in your job search. 1 – Use your cover letter wisely. The cover letter may not be a staple of the job application these days, but that does not mean you can't write one anyway. This is a great way to write about gaps in your employment. 2 – Only apply for jobs that you are qualified for. It is a waste of your time, as well as the hiring manager's, to apply for a position you will not get. 3 – Once you apply for a job online, you probably receive a confirmation email. Keep track of these submissions, ensuring that you show initiative by following up. 4 – Use social media websites, including LinkedIn, Jobr, Twitter and Facebook, to reach out to prospective employers. At the same time, keep your profile professional. 5 – If you don't have the experience to land the job you want, you need to develop the experience. You might consider an internship, volunteering with an organization you feel comfortable with or finding some freelance work.
Server Job Seeking Tips
It is not uncommon for server jobseekers to find that they did not land the job because the resume wasn't up to par. Even a simple mistake can put you out. These tips will help you write a simple resume without all those major mistakes. 1 – Don't lie on your resume. Entry-level applicants are rarely responsible for every aspect of a certain task or department, so it is important that you do not claim responsibility for tasks you aren't actually involved in. 2 – The hiring manager knows that you are not perfect. Don't explicitly state all the negative things about your work ethic, but make sure that you aren't playing yourself up to be the perfect employee. 3 – Use keywords from the job description to write a compelling resume that fits the job description. 4 – Proofread your resume by checking for spelling and grammar. You don't want to come off as looking less than polished. 5 – It is important to be as accurate as possible when you are writing your resume. If a company decides to do a background check, you want to make sure your dates are as close to real life as possible.