A job in public safety is one of the noblest professions within our society today. For this reason, your police officer resume should detail your passion for and experience in protecting the lives and property of communities. Our police officer resume example will guide you in highlighting any special knowledge you have of crime and the law, as well as firearm and weapon expertise. Ideally you should list all your previous experience as a police officer, including where you've served and the duties you have performed. Be sure to include your police academy certification and any other criminal or legal qualifications in your police officer resume.
Police Officer Advice
Get a job serving and protecting your community: become a police officer. If you've got what it takes, start by getting the proper training and experience. Then, create your resume with help from our resume examples. Developed specifically for police officers, these resume examples include language and formatting that can serve as a model in building your resume more quickly and easily. Get started on the road to a new police officer job–click on the templates below to get started.
Resume Tips for Police Officer
To find jobs as a police officer, you must be patient and optimistic no matter what challenges you face. Use these tips to create a plan that will help you to successfully accomplish your career goals.
1. Be realistic about referrals. Even if you are proactive in your professional network, this is not the only source of promising leads. Sometimes it is better to reach out to hiring managers on your own with a concise, introductory email or call.
2. Conduct an evaluation of your social media accounts as if you were an employer. Ask yourself if you would hire someone based on this profile. If the answer is no, it's time to edit your posts and think twice about adjusting your privacy settings.
3. Check your resources on a regular basis. Don't just hand out a copy of your resume here and there. Persistent research and consistency will eventually turn up a solid occupational lead.
4. Think outside the box. There are many fields that complement each other in both thought and procedure. Don't be afraid to try something slightly different, even if it means learning new skills.
5. Plan ahead for interviews and informational meetings. Punctuality is one of the main characteristics of a reliable employee, so do your best to beat traffic and get there on time.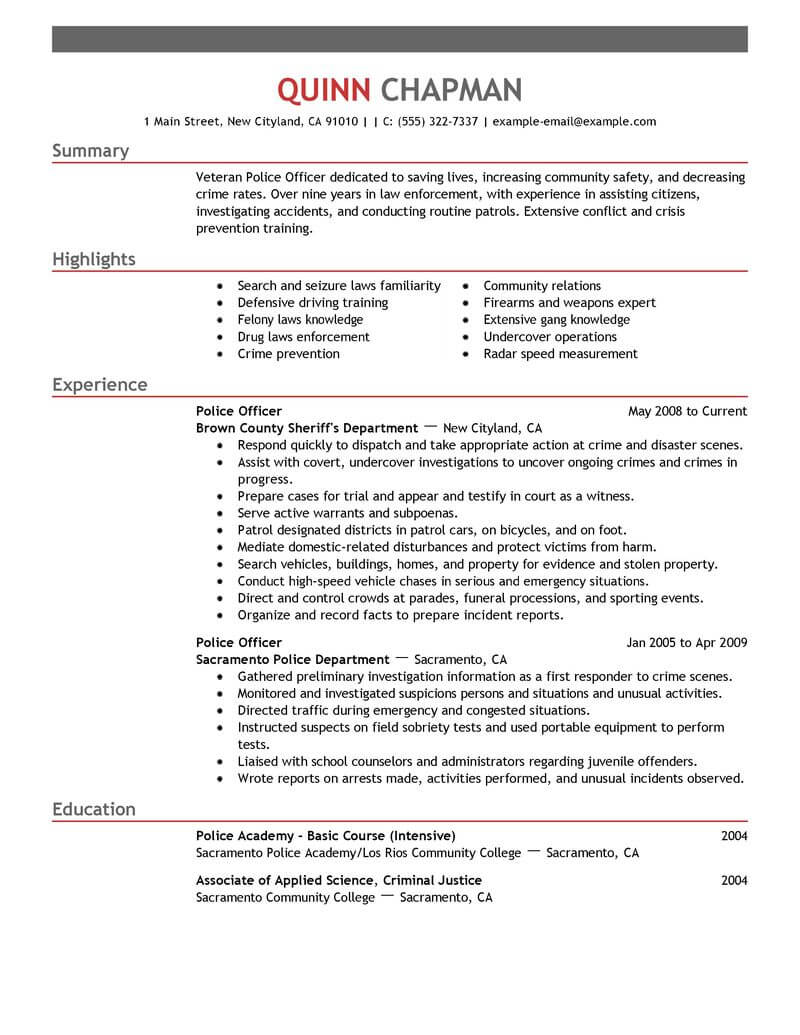 Police Officer Job Seeking Tips
Looking for jobs as a police officer should leave you feeling hopeful and excited. These simple do's and don'ts will give you the edge you need to present your qualifications confidently to an employer.
1. Don't submit a resume with typographical errors or grammatical mistakes.
2. Do create a list of achievements. Use this to brainstorm and keep track of quantifiable accomplishments for your resume.
3. Don't encourage fraud or identity theft. Sharing only basic contact information greatly reduces this unfortunate risk and also maximizes your personal security.
4. Do use action verbs to highlight your experience. Describing your accomplishments in this manner distinguishes you from the rest of the candidates.
5. Don't pay someone else to do it for you. Instead of wasting money on professional resume writers, take this opportunity to represent your skills in the best possible light.