Your professional security officer resume is the platform to highlight your expertise in surveillance work and the protection of property as well as your impeccable physical fitness to carry out these duties. As indicated in our professional security officer resume example, you should provide extensive details of your patrolling and observational abilities. In the experience section of your professional security officer resume, include the types of buildings and properties you have guarded to demonstrate your versatility. Your employer will also appreciate your ability to provide assistance to the police in their investigations. Conclude your resume with your certifications and qualifications in law enforcement and criminal justice.
Professional Security Officer Advice
Applying for a job as a professional security officer? You'll need the right background, experience, and training–and a high-quality resume. With the resume examples below, you'll be able to create your professional security officer resume quickly and easily. Choose from a range of templates and designs. Click on any of the resume examples below, and take the next step toward an exciting and rewarding career in law enforcement.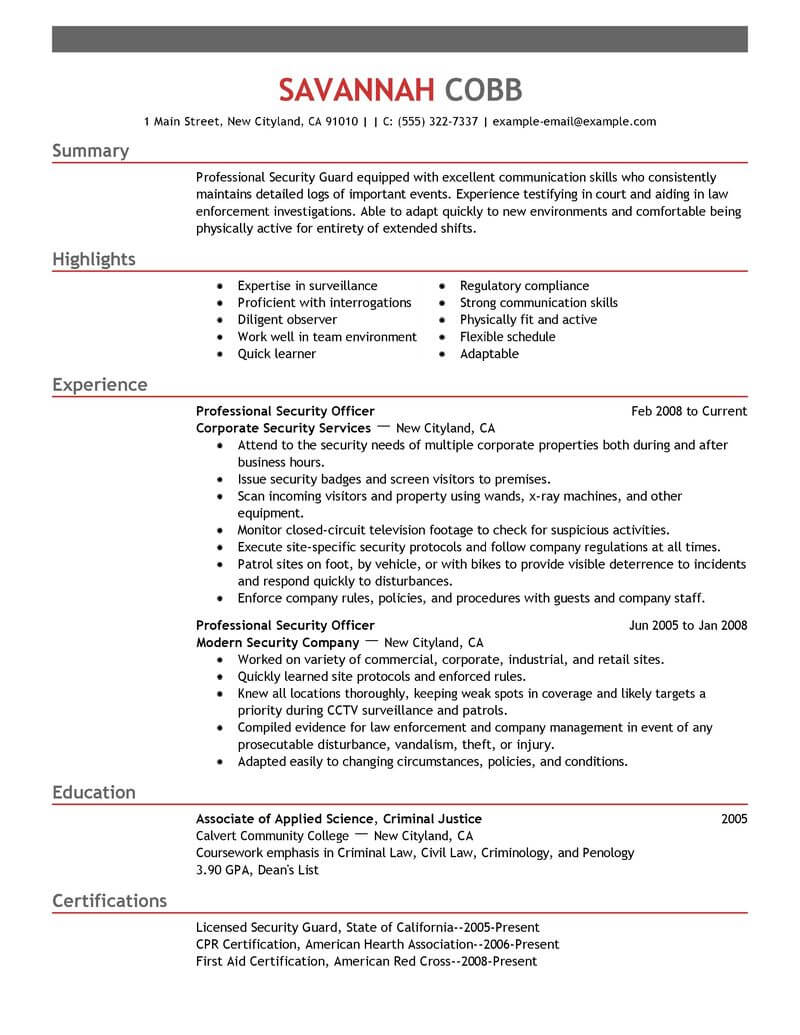 Resume Tips for Professional Security Officer
Finding the right employer requires diligence and research. Consider the following tips as you search for jobs as a professional security officer:
1. Make a plan. Rather than blindly filling out applications, take some time to assess your skills, goals and course of action. Start by preparing a resume, a cover letter and a list of job titles that fit your skillset.
2. Research each company. The only way to know if you're fit for a position is by learning every thing you can about a particular organization. What's the culture like? How many people work there? Answers to many of these questions can be found on company websites.
3. Network. This is another great way to learn what it's really like to work for each company. Plus, a referral is an excellent way to get noticed by a hiring manager. Talk to everyone you know, for it might be that friend of a friend who gets your foot in the door.
4. Maintain online profiles. Career networking site are excellent places to network with people in your field. Use a professional photo and keep your information up to date.
5. Stay positive. A job hunt can be a stressful ordeal, especially when you're faced with long waits and rejection. Remember that these hurdles are just part of the process.
Professional Security Officer Job Seeking Tips
Don't apply to any jobs as a professional security officer without fine-tuning your resume. To avoid common mistakes, consider these tips:
1. Choose your words wisely. Rather than listing your duties with generic phrases, use words like collaborated and accelerated. These action verbs convey a sense of pride and persistence, and they're a great way to highlight your accomplishments.
2. Be honest. Never lie on a resume. Doing so might get you an interview, but think about your reference check at the end of the process. In the end, you'll look a bit foolish if you've embellished your skillset.
3. Keep it condensed. It's easy to go overboard with words, duties and formatting, but a resume is not the place to test your visual creativity. Keep your fonts consistent and your paragraphs short.
4. List in order. If you've had multiple jobs or earned more than one degree, list your experiences from top to bottom starting with the most recent. If you're currently working, it's a good idea to put your professional experience before your education.
5. Include all training. Even if you never finished your degree, indicate how many years or credit hours you completed. While partial education might disqualify you for certain positions, it still shows an employer what you bring to the table.