As someone who manages all aspects of a product, you need a resume that tells employers that you pay attention to details and adhere to strategic processes. Note these and other applicable traits in your skills section, so hiring managers see it right away. Use your work history section as an opportunity to illustrate how these skills contribute to your professional accomplishments. Start each bullet point with a strong action verb to describe your accomplishments. Because minding details is vital to your work, ensure that there are zero errors in your resume. Look through the product manager resume example for more ideas.
Product Manager Advice
A product manager is a business pro who helps select, develop, and market products for an organization. It takes business-savvy and experience to be a product manager. It also takes a professional resume that highlights your record of accomplishment. The resume examples below are intended to help you create and organize your product manager resume. With these resume examples as a starting point, you'll be able to develop a resume that hits all the key points employers expect. Get started today.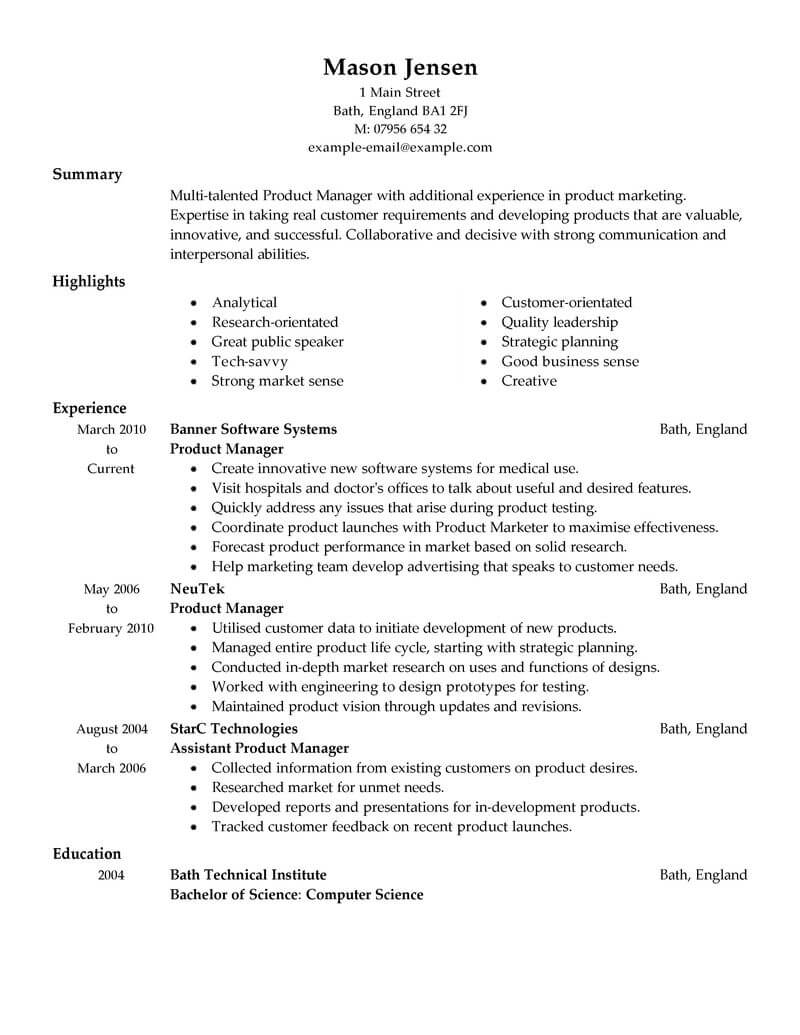 Resume Tips for Product Manager
Finding jobs as a product manager requires the right mindset paired with a set of skills to keep you on track. The tips below can guide you in finding the job you've been looking for.
1. Join a support group. It's important to remember that you are not alone in being temporarily unemployed. Joining a group can help extend your network and provide you with support and a positive attitude.
2. Set goals for yourself. The process of finding a new job can be overwhelming, so it helps to break things down into smaller attainable goals. For example, you can start by sending out a certain amount of resumes per week.
3. Keep up with your networking contacts. Don't hesitate to reach out to any individuals that could offer advice or insight into the job market. You never know where your next lead could come from.
4. Stay persistent. Unfortunately, finding a new job probably won't happen over night. If you prepare for the long haul ahead, you can keep up your momentum and rest assured that finding your next job is only a matter of time.
5. Take advantage of social media. Using sites such as Facebook, Twitter, and LinkedIn can help connect you to employers and also makes your professional profile accessible.
Product Manager Job Seeking Tips
If you are looking for jobs as a product manager, remember that your resume needs to be an authentic representation of your professional history. Following the tips below can ensure that your resume makes a solid first impression.
1. Do use bullets for listing items and align the text flush left. These simple formatting guidelines will make your resume organized and readable.
2. Do not use generic words. Using common phrases and adjectives such as €œhard working€ and €œresponsible€ will not help your writing stand out.
3. Do not exceed two pages in your resume writing. Keep your writing as concise as possible. This guideline does not apply to academics or doctors, who may be using curricula vitae (CVs).
4. Do create a €œSummary of Skills€ section. This allows your qualifications to be seen at-a-glance and provides an introduction to your work experience section.
5. Do list your work history in the following recommended order: title of position, employer, city and state of employer, and employment dates.